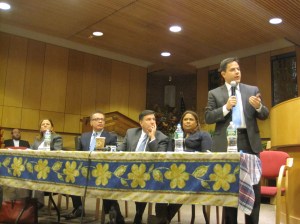 The City Council's black, Latino and Asian caucus is pushing back against the assertion by some observers that members are more open to considering a white candidate for council speaker because a black candidate was elected to citywide office earlier this year.
In their first public statement of the behind-the-scenes campaign, the caucus members argued that Brooklyn Councilwoman Letitia James's election as public advocate should have no bearing on the contest to choose the city's second most powerful post.
"The Black, Latino and Asian Caucus finds the suggestion troubling that some quota for diverse representation has been met because a qualified, vigilant, driven representative of the people who won her election to serve as this city's Public Advocate happened to also serve as a member of this diverse Caucus," the current members of the caucus wrote. "It is troubling to know that some would venture to suggest that because of her election, that qualified candidates of color could be possibly overlooked as we consider the next Council Speaker. We very much wish to see another member of our Caucus rise to the rank of Speaker, to make history and represent the present reality of our city."
Currently, four out of seven of the candidates actively vying for the speakership are members of the minority caucus: Manhattan's Melissa Mark-Viverito and Inez Dickens, the Bronx's Annabel Palma and Brooklyn's Jumaane Williams. Also in the running are three white men: Dan Garodnick from Manhattan, Mark Weprin from Queens and Jimmy Vacca from the Bronx.
The minority caucus members went on to stress that the next council speaker "must" be someone who can bring members, as well as government officials and activists together, and "ensure that needs are met and communities and districts are not left out."
"While the race, ethnicity and/or cultural background of the Speaker is not a prerequisite, the Speaker must be a keen representative of the realities of this city: New York City is a minority-majority city," they wrote.
The caucus is expected to number 26 next year–the exact number any candidate will need to win over to secure the crown. About half of the caucus's members belong to a separate, left-leaning Progressive Caucus, which is hoping to have an outsized impact on the race.
But the minority members stressed that they would play a role, too.
"It is shortsighted and offensive to suggest that the need for diversity in leadership has been satisfied in spite of the wide array of quality candidates of all backgrounds," they added. "Our Caucus is proud to have so many of our members answer the call, and we will stand behind the candidate who best represents our membership and the needs of our constituents."