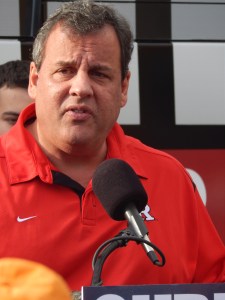 Chris Christie enters the final stretch of his gubernatorial re-election bid with a 20-point lead in today's Monmouth University Poll. The minimum wage hike is also set to pass, with most voters not being bothered by the fact that future increases will be written into the New Jersey Constitution.
Garden State voters likely to participate in the November election give Christie a 57% to 37% lead over state Sen. Barbara Buono. The incumbent's margin is down slightly from 24 points three weeks ago, but is similar to the 19- to 20-point leads in prior Monmouth University polls since August.
Little has changed over the course of the fall campaign. Christie claims the support of 92% of Republicans, 61% of independents, and 23% of Democrats. A key issue in the final margin of victory will be turnout coming on the heels of a special election for U.S. Senate just three weeks ago. Republican-leaning voters appear to be more likely to come out for this election than they were on Oct. 16. Among likely voters who reported voting in the special U.S. Senate election, Christie holds a 54% to 39% lead over Buono. Among those who waited until this week's election to cast their fall ballots, though, Christie's lead is even larger at 64% to 32%.
"The partisan difference in turnout between the two elections should help boost the governor's winning margin on Tuesday," said Patrick Murray, director of the Monmouth University Polling Institute.
Christie closed out the campaign with a television advertisement touting his actions during and after Superstorm Sandy. Christie holds a formidable 65% to 28% advantage among voters in New Jersey's four shore counties. Among those who specifically live in communities throughout the state that were hardest hit by Sandy, Christie's lead is 60% to 35%. It should be noted that Republicans have a significant party identification advantage (38% to 31% Democrat) in Sandy-impacted towns. This represents a 14-point net GOP swing compared to the partisan identification split for the rest of the state (36% Democrat to 29% Republican).
"Gov. Christie is doing well in communities hit hard by Sandy, but perhaps not as well as the significant underlying Republican tilt of these towns would suggest," said Murray.
Republican Christie can also claim majority support among both men (62%) and women (52%). This 10-percentage point difference is in line with the traditional gender gap in partisan support for most statewide elections. However, this marks the first time in Monmouth's polling of the race that the gender gap in support for Christie has been wider than 5 points.
While Christie splits young voters under age 35 with Buono – 45% for the Republican and 47% for the Democrat – the governor holds solid majorities among voters age 35 to 49 (54%), age 50 to 64 (57%), and age 65 or older (62%). He continues to lead among white voters by 64% to 32%. The Hispanic vote is split 48% for Buono to 42% for Christie, but this gap is within this sub-group's margin of error for the survey. The Republican also has support from 19% of black voters to 63% for the Democrat.
Tuesday's ballot also includes a measure asking Garden State voters to approve a constitutional amendment to raise the minimum wage to $8.25 an hour and incorporate annual cost of living increases. Fully 58% of likely voters say they will support this measure, just 28% say they will vote against it, and another 14% are undecided. Support comes from majorities of Democrats (84%) and independents (53%), but only 32% of Republicans say they will vote for this measure.
One criticism of this measure is that it ensconces automatic cost of living increases into the New Jersey Constitution, rather than making it statutory. Just one-third of voters (36%) say they have given the constitutional aspect of this measure a lot of thought. Another 22% have thought about this a little and 43% have not given any thought to the constitutional aspect of the wage hike. Support for the measure is very similar regardless of whether voters have given the constitutional aspect a lot (55%), a little (59%), or no (61%) prior thought.
After being read a description of the measure and the fact that the cost of living increases can only be over-ridden by another constitutional amendment, 38% of voters say that this is probably a bad idea. This compares to 33% who say that constitutionally guaranteeing cost of living increases is a good idea. Another 30% are unsure. Among those who had not given any prior thought to the constitutional aspect of the wage hike, 28% say it is a good idea after hearing about the issue and 30% say it is a bad idea.
"The business community's attempts to warn voters about the potential dangers of locking minimum wage increases into the state constitution have not gained much traction," said Murray.
The Monmouth University Poll also found that just under half (49%) of likely voters say that this year's gubernatorial campaign has a done a good job talking about the most important issues facing New Jersey today. Another 33% say it has done a bad job and 17% are not sure. This is an improvement from one month ago, when just 34% said the campaign was doing a good job while 42% said it was doing a bad job addressing the issues.
If Christie is re-elected on Tuesday, most voters are either very confident (26%) or somewhat confident (32%) that he will fix the state's biggest problems in his second term. About 4-in-10 voters are not too confident (19%) or not at all confident (20%) that he will accomplish this.
Favorability ratings for both candidates remain basically unchanged since the last Monmouth poll. Most likely voters (59%) continue to have a favorable opinion of Christie, while just 28% hold an unfavorable view. Buono's personal ratings are split at 31% favorable and 29% unfavorable. A sizable number of likely voters (40%) continue to express no opinion of the Democratic nominee with just days to go before the election.
The gubernatorial running mates continue to be non-entities in this race. Republican Kim Guadagno gets a 17% positive to 11% negative rating, with 73% of likely voters having no opinion of the incumbent lieutenant governor. Democrat Milly Silva has a 7% positive to 8% negative rating, with 85% having no opinion of her.
The Monmouth University Poll was conducted by telephone from Oct. 30 to Nov. 2, 2013 with 1,436 New Jersey voters likely to vote in the November general election. This sample has a margin of error of + 2.6 percent. The poll was conducted by the Monmouth University Polling Institute.