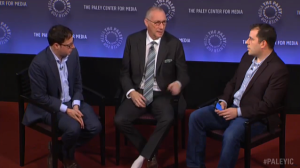 Superstar statistician Nate Silver avoided addressing stories about departures at The New York Times but did say that his FiveThirtyEight blog won't exactly compete with his old employer when it relaunches.
"Their vision is going to be a little different than ours and ours than theirs," Mr. Silver said of the Times during a panel at the Paley Center's International Council Summit today. "But in some ways, we see them not as partners literally but in the same boat in this very big ocean of journalism."
Mr. Silver left the Times after his contract expired in July and took his moneymaking brand to ESPN. After his departure, Times public editor Margaret Sullivan wrote that Mr. Silver didn't fit in at the Times, and Mr. Silver mentioned the paper's business model in what was interpreted as a veiled swipe.
And in recent weeks, Mr. Silver's departure has been mentioned frequently. A slew of exits by Times staffers have given rise to stories that cite Mr. Silver's defection as evidence that the newspaper is having a difficult time retaining talent.
Moderator Peter Kafka of AllThingsD tried to get Mr. Silver to address the speculation. But the statistician largely evaded the topic, instead mostly talking about his new site (which has been staffing up recently and is scheduled for an early 2014 relaunch).
But ESPN President John Skipper, who was onstage as well, did address the story of trouble at the Times. 
"Can I just say something on behalf of The New York Times?" Mr Skipper asked. "I read it this morning, and it was really good. They seem to have survived and continue to put out a great product. They have a lot of very talented people."
Mr. Skipper seemed to sympathize with the charges being leveled at the newspaper.
"I know it's a fun, interesting narrative. We are a big company, so we understand," he said. "We've been on the other side of the narrative, and my guess is most of the stir and cry happens outside the walls as opposed to inside the walls there."
Watch the (long) panel here:
[protected-iframe id="2c789141a57eb1787796d2685194e484-35584880-39856794″ info="http://fora.tv/embed?id=19339&type=c" width="400″ height="225″ frameborder="0″ scrolling="no" allowfullscreen=""]
Strength in Numbers from The Paley Center for Media on FORA.tv