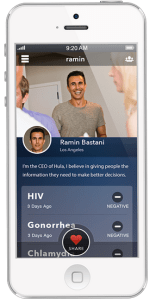 Sexually transmitted diseases are not new. And yet, their diagnosis and treatment has gone undisrupted by the tech industry.
But a new app is seeking not only to bring tech and STDs into the same sentence, but to tear down the stigma associated with discussing one's sexual health. The app is called Hula, and founder and CEO Ramin Bastani hopes that through word of mouth and partnerships with dating websites and public health organizations, it will encourage people to have honest conversations when it comes to sex, and improve their health, too.
"The status quo is if you and I meet and you ask me if I've been tested, the instant response is, 'Of course I have,' and I'm offended," he said.
And that awkward conversation is nothing compared to finding a clinic, walking in and enduring the medical procedure––that is, if the clinic even accepts you. In his research, Mr. Bastani found health centers that flat out denied him, or carried exorbitant surprise fees. It makes a difficult process even harder.
"We want to bring transparency to the STD testing world," Mr. Bastani said in a phone interview with Betabeat. "We want to make STD testing suck less."
And how will they do it? Hula is currently compiling an über database of testing clinics throughout the country, collecting the names and information of about 100 clinics per week and verifying them one by one. To contrast, he said, the CDC updates its database once a year. Also unlike the CDC's records, Hula's database will allow reviews. So if you show up at a clinic that advertised a $20 testing rate and they tell you the cost is actually $150 (and this once happened to Mr. Bastani), you can report that on the site and steer other users away.
After a user finds a clinic and gets tested, he or she can request through Hula (touchscreen–finger–signature and all) that the results be delivered directly through the app. Anyone who's waited for test results from a busy doctor's office will jump for joy at the prospect of receiving the info in a legible digital format, compared to trying to get the details by phone from a harried receptionist.
There's no way to fudge the results, either, so once they're in your phone, your potential partner can feel safe in the knowledge that the positives and negatives are legit. The app also displays the amount of time that's elapsed since your last time being tested, so it's for you and your partner to decide whether you're overdue.
The records can be accessed in this way thanks to a change in HIPAA that allows patients to give permission to have their results delivered through a third party. One thing many people forget about HIPAA is that the P stands for portability, not privacy, Mr. Bastani said. The point is for patients to have access to their records, not feel as though all of their medical info is locked in a vault.
"It's a nightmare to get your own records," Mr. Bastani said. "It is really difficult."
Mr. Bastani's first startup was SportsFrog, a website designed to make the often corrupt process of sports betting more transparent. We asked Mr. Bastani if he purposely sought out taboo activities like sex and gambling for his work ventures, and he said the thought hadn't crossed his mind; he just likes bringing more information to people who are in a position to be taken advantage of.
To do this, Hula focuses on providing incentives rather than instilling fear. The incentive, of course, is sex. And in case you haven't heard, sex sells. Some public health advocates insist fear is the best way to get people tested, Mr. Bastani said, but he maintains that if fear worked, STD rates would be much lower.
The app is growing in popularity since its recent release. LGBTQ people are loving it, Mr. Bastani said, and Hula even partnered with gay dating website Mister recently, after the latter app's users expressed concern about verifying partners' test results. Swingers, sex workers, and fans of polyamory are also showing enthusiasm.
When accused of encouraging distrust between sexual partners, Mr. Bastani tells his critics that his motto is the same one Ronald Reagan used in reference to his opponents during the Cold War: Trust, but verify. The motto came in handy when Mr. Bastani appeared on the abstinence–promoting Mike Huckabee's conservative radio show.
"I said to him in the interview, 'It's even more critical for people who practice abstinence to use [the app],'" Mr. Bastani said. "They've kept this promise. Don't ruin it with someone who's being dishonest."
Surprisingly (or not really, when you think about it), Hula is doing well in retirement communities.
"The reason is Viagra," Mr. Bastani said. "And people living longer. My friend's mom told me, 'Ramin, I'm so proud of you, this is wonderful. There's this community center in Florida with 30,000 people and all we talk about is STDs.'"
The point isn't just to get people laid, Mr. Bastani said, although a play on lay/lei is where Hula gets its name. The app can also encourage people to get treatment for diseases they might have otherwise not have noticed until it was too late.
"I think we have an opportunity to make such a big difference here, and it's such a solvable thing," he said.