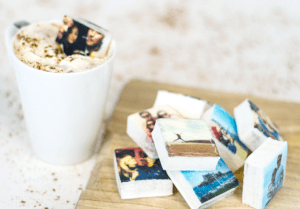 If you like novelty presents and social media, this is your lucky day: a new startup named Boomf is printing Instagram photos on marshmallows.
That's right, this holiday season, you and your loved ones could be the proud owners of a bunch of edible selfies care of the British startup.
The treats come with an extra side of cheekiness. The print quality, according to Boomf's website, is "pretty good. But, people, remember we are printing on marshmallows here! It isn't Retina Display."
Like all things British, these fancy magical candies sound like they're straight out of Harry Potter. We're pretty sure a marshmallow emblazoned with your favorite dick pic would go great in a nice steamy mug of Butterbeer.
————
UPDATE: Boomf now ships to North America and Europe as well as the U.K. This post has been edited to reflect that.