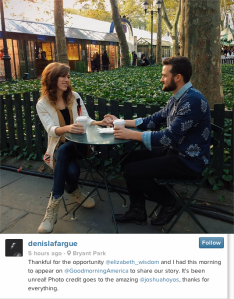 No longer considered a sad tool for the socially inept, online dating is more popular than ever. From Match.com to Tinder to the extra-perplexing LoveRoom, we're all abandoning our hopes for romantic comedy meet-cutes in favor of finding our soul mates via impersonal electronic devices.
So it doesn't come as too much of a surprise that one pair of betrothed millennials met via Instagram. She posted a picture of some lake in Oregon, ABC News reports. He, a complete and total stranger, commented on it. 
Although the two were separated by a seven hour drive, with Denis Lafargue living in Louisiana, and his lady love Elizabeth Wisdom living in Texas, they commented back and forth on each other's Instagram photos.
After they spent nine months admiring each other's deft use of the Rise filter, Mr. Lafargue proposed to Ms. Wisdom. How's that for social media engagement! (Sorry.)
"I was very excited when Denis got my number," Wisdom said, according to ABC News. "I just remember thinking, 'Oh wow. This is going outside of Instagram.'" Every little girl's dream come true.
And this wouldn't be an Internet love story without a stunt proposal. Mr. Lafargue "had this idea to make a timeline of our relationship," he said. To do this, he printed out 30 Instagram photos and "strategically placed them along a route leading [Ms.] Wisdom to a barn on her grandmother's property, the place where she had always wanted to be married," ABC News says.
The report says she agreed to marry him, but we all know that without a YouTube video of the occasion with at least 10,000 pageviews, the verbal engagement contract is null and void.  But on the bright side, they've both gotten a ton of new followers from the experience.