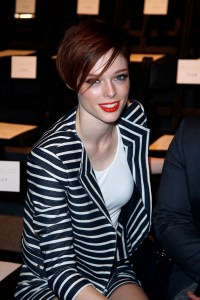 The subway is about to get a whole lot more beautiful. Unfortunately, that beauty won't be coming in the form of graffiti-free train cars or special air fresheners that kick in whenever a puking undergrad climbs aboard. Instead, it is coming via the revenue-driving new L'Oreal makeup vending machine in the Bryant Park station.
Top model Coco Rocha served as Vanna White for the unveiling of the three-screen machine last week. The first screen scans your outfit. The second recommends L'Oreal products based on the colors you're wearing (you have the option to "match" or "clash"). And the third shows a B-roll loop of thin, pretty style bloggers traipsing glamorously through New York locations. For the first two weeks, some of the company's brand ambassadors will be on hand to help commuters use the machine, and the products will be restocked every night, as needed.
"This is like a vending machine on steroids!" exclaimed Ms. Rocha, who was introduced as a "New York 'It' girl and beauty maven." Although she has recently relocated from Midtown to Westchester, Ms. Rocha told the Transom that she loves to take the subway when she's in town and looks forward to people posting their Coco-subwaying-it sightings on social media.
Ms. Rocha isn't an official spokeswoman for L'Oreal, but she has worked with the brand before ("they helped me go from green hair to red," she explained). The former host of The Face who is also a contributing writer to PC magazine, is something of a tech geek, and she says she is sold on the makeup-vending-machine-in-the-subway concept. "I buy my own makeup, but the last time I was in a beauty store was two years ago," she admitted.
The L'Oreal Intelligent Color Experience, as it's known, vends lipsticks, nail polishes, eye shadow palettes and the Butterfly mascara that was featured on a recent episode of Project Runway and will be open until Dec. 30. Still, it's clear that the Paris-based brand wants its test project to become a subway staple. Benefit Cosmetics has successfully taken its beauty-product vending machine concept to airports, giving flyers a chance to scoop up a pot of cheek tint after they've cleared the TSA line.
Ms. Rocha, whose job has given her plenty of opportunities to trot the globe, pointed out that other cities have already figured out the art of public-transit commerce. "In China, you can buy groceries in the station," she said.
The new vending machine—sorry, "shopping experience"—is designed to appeal to busy New York women as well as holiday-time tourists. But one thing's for sure: The 10 p.m. shutdown time will limit the number of drunken impulse buys.