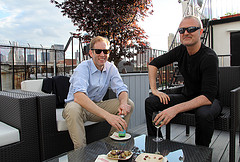 Rumors of a merger between Business Insider and Gawker that made the rounds this morning have been greatly exaggerated.
"We had breakfast, as we regularly do. I admire Henry Blodget, Joe Weisenthal and Business Insider's editorial management. They'd have more fun with us than at AOL, where they'd be yet another unhappy unit. And they're having fun with the possibility alone," Mr. Denton said in an email. 
The merger rumor started after Mr. Denton and Business Insider's Henry Blodget had breakfast at Balthazar recently (and Mr. Blodget managed to bring an end to the tyranny of the bathroom attendants at the Keith McNally restaurant).
Following the breakfast, both Capital New York and The New York Post ran items on a talk of a merger between the companies.
Today, in advance of a public discussion between Mr. Blodget and Mr. Denton at Business Insider's Ignition Future of Digital Conference, Business Insider writer Jay Yarow tweeted the rumor that there would be a merger announcement this afternoon.
Well, it's certainly an effective way to make sure that people come to your conference.
But we hear that the actual forthcoming announcement is less exciting (but more believable): Business Insider is going to use Gawker's Kinja platform for comments, according to the more recent rumor.