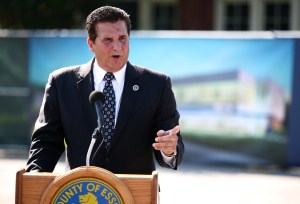 ATLANTIC CITY – Essex County Executive Joseph DiVincenzo may have run afoul of some party members when he endorsed Gov. Chris Christie's bid for re-election, but at least he has the support one influential South Jersey Democratic power broker in 2014.
George Norcross III told PolitickerNJ a recent dispute with DiVincenzo over legislative leadership has done little to tarnish the pair's relationship. What's more, Norcross said at an Atlantic City reception, is that DiVincenzo has his full backing if he plans to run for re-election next year.
"That's resolved," said Norcross, referring to a dispute between the two over who will lead the state's General Assembly.
"I'm happy and delighted to support him for re-election," Norcross said. "I'm supporting Joe. He's my friend and he's been my friend."
Assembly Speaker Sheila Oliver (D-34) was put in the leadership position as part of a power sharing arrangement between Norcross, who controls the largest single bloc of legislative votes in the Legislature, and other Democrats. Oliver works under DiVincenzo as a county administrator.
However, Norcross and his allies, including the Senate's top lawmaker, Senate President Steve Sweeney (D-3) reportedly increasingly grew frustrated with Oliver just as the relationship between Norcross and DiVincenzo reportedly deteriorated.
The disputes spurred South Jersey to back Assembly Speaker-elect Vincent Prieto (D-32), who is an ally of influential Hudson County Sen. Nicholas Sacco (D-32). Prieto was elected to the leadership position following the recent statewide races.
Discontent among some Essex County Democrats has been brewing since DiVincenzo announced he supported the GOP governor's re-election and then appeared with Christie frequently on the campaign trail. However, rattled Democrats have yet to announce a serious candidate to challenge the powerful county executive.
And as far as Norcross is concerned, the residents of Essex County are well served by DiVincenzo.
"He's a terrific county executive," Norcross said.