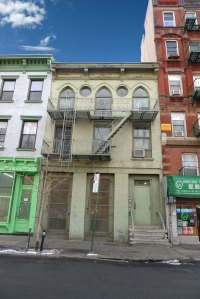 When the green brick synagogue and longtime studio of Abstract Expressionist Pat Passlof  came on the market for $6.2 million last spring, it seemed destined for demolition. A mixed use, unlandmarked 7,055-square foot property with an additional 3,000 square feet of air rights in an indisputably hot neighborhood? What could such circumstances possibly lead to but a yet another nail in the coffin of old New York—one more remnant of local character razed to make way for by a few sprawling units of luxury housing with some "bespoke" but utterly bland, Brooklynesque establishment on the ground floor?
Well, the end may still be nigh for New York, but 80 Forsythe Street will live to see another day. The former studio and home of Ms. Passlof, who died in 2011, will be spared the wrecking ball, at least for the time being. The property's new owner, 80 Forsyth Properties LLC, who paid $6.4 million for the building, intends to use it as a studio/gallery, according to Massey Knakel, who had the listing.
What's more, the proceeds of the sale will go toward the creation of The Milton Resnick and Pat Passlof Foundation, in accordance with Ms. Passlof's wishes to funnel her estate into helping her late husband's work achieve the recognition it was denied during his lifetime. Mr. Resnick maintained his own painting studio and living space in a synagogue around the corner at 87 Eldridge Street, which is slated to house the foundation. Though the couple's Abstract Expressionist work was well regarded, their careers never reached the lofty heights of their more famous contemporaries.
"It was a really, really beautiful space. We knew someone would fall in love with it," said Michael DeCheser, who brokered the sale with colleague Paul J. Massey Jr.
The one-time synagogue, built in 1874, still has its original pointed arch windows, which along with the skylights added by Ms. Passlof, flood the building with light, one of the few luxuries.
"They called it a rat hole, but I couldn't deny that," Ms. Passlof told a New York Times reporter in 2011, describing her parents' reaction to the condemned building that she bought in 1963 for $20,000. The synagogue had rodents, but it lacked windows, structurally-sound floors, or a proper foundation.
The couple's renovation transformed the building into a beautiful if no-nonsense work space, with huge lofted rooms covered in white planking and few interior divisions. As Geoffrey Dorfman, who wrote Out of the Picture: Milton Resnick and the New York School, once told The Times,"If you look at his, and at Pat's [studio], you can see these are places of work. The chairs are hard. You're not a serious artist if you've got the comfy chairs and the TV you can doze in front of."
"They did a tremendous amount of work, but they kept it loft-like," Mr. DeCheser told The Observer. It was not, in other words, a luxury residential renovation, even if many of its features can be found in high-end property listings: double-height ceilings, wood floors, exposed brick, even a fireplace.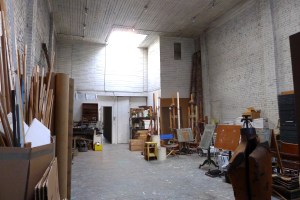 Mr. DeCheser said that given the properties uniqueness, Massey Knakel cast a wide net, marketing it not only to developers and residential buyers, but also artists, gallery owners and large arts institutions. The bidding process yielded many offers besides that of the winning artist, whom he said wishes to remain anonymous. At least he or she will have plenty of artistic company nearby.
"There are a lot of people from the art community who are coming into this neighborhood from all other areas of the city," he added.
Maybe we can all wait a few months before taking Patty Smith's advice to abandon New York and light out for Detroit or Poughkeepsie.