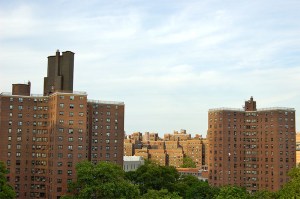 In a bid to block the New York City Housing Authority's controversial land lease plan from moving forward, a group of opponents are filing a lawsuit today in New York State Supreme Court—the second such lawsuit to be filed against the plan, which seeks to raise much-needed funds by building market-rate apartments on public housing land.
If NYCHA hopes to see its land lease plan become a reality, it will need to move quickly, locking in a developer before Mayor Bloomberg leaves office in a little over a month. Mayor-elect Bill de Blasio has repeatedly voiced has intention to quash the plan, an intention of which both the plan's supporters and opponents are very well aware. The deadline for proposals is November 18; once NYCHA selects developers, opponents say that the next administration's hands may be tied.
The lawsuit filed today alleges that necessary environmental reviews and parkland alienation procedures were not carried out before the city agency released a RFEI, or request for expressions of interests, for eight Manhattan housing projects. It is being filed by the Urban Justice Center's Community Development Project, Urban Justice Center's Safety Net Project and NY Environmental Law & Justice Project and NYCHA tenants in five of the eight housing developments slated for market-rate development (Campos Plaza, Carver Houses, Meltzer Tower, Smith Houses and Washington Houses).
"I think the issue is to stop the clock now and start it over again during the next administration," said Harvey Epstein, who directs the community development project at the Urban Justice Center. "I don't know why the Bloomberg administration is moving forward when he only has 45 days left in office. We look forward to working with the de Blasio administration on this issue."
The lawsuit centers on environmental review, floodplain analysis and parkland alienation procedures—which the challengers allege are mandated by state and federal law before soliciting bids from private developers for the five developments in question. (The Smith Houses on the Lower East Side were flooded during Sandy and five of the proposed towers would be constructed on parkland within the developments—violating a state statute that requires legislative approval when alienating parkland.)
"At this time, we have not been served with this lawsuit," the housing authority wrote in an email to The Observer. "However, it's unfortunate that there is any attempt to block a proposal that would generate significant revenue for the New York City Housing Authority—money that would go directly into developments and capital improvements for NYCHA residents."
In October, the City Council, joined by housing authority tenants in two of the other developments, filed a lawsuit against NYCHA in an attempt to stop land lease from moving forward. The case, which alleges that under state law  NYCHA does not have the authority to lease land for market rate apartments, has been argued before the court and is awaiting a decision.
Legal Aid attorney Judith Goldiner, who represented the tenants in the lawsuit, said that they are hoping that a decision will be reached by November 18 (the suit had originally sought to rescind the RFEI).
"We are concerned that the housing authority could be rushing to do a designation," Ms. Goldiner told The Observer.
It is unclear if NYCHA would be able to select a developer before January 1; the agency did not immediately respond to The Observer's inquiry about a time frame for selection.
While few, if any, would argue with the cash-strapped agency's motivation for leasing land to build luxury towers—the public housing system has $6 billion in unmet capital needs—opponents argue that land lease would set a dangerous precedent, with luxury development further encroaching on the city's dwindling supply of affordable housing. But it is also unclear if the city can save the system without drastic action in the face of ongoing federal budget cuts.
Mr. de Blasio has been highly critical of John Rhea, whom he has vowed to replace as NYCHA commissioner, though he has not voiced all-out opposition to a land lease program, or something resembling it, in the future.
"There may well be a development plan that is believable and acceptable, but it has to be carefully constructed," Mr. de Blasio told the Daily News last month. "So I certainly don't rule it out."