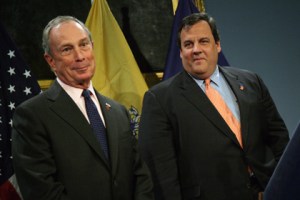 Former Mayor Rudy Giuliani thinks Chris Christie has the potential to win the White House.
Campaigning with the New Jersey governor in Bergen County today, Mr. Giuliani, himself a failed presidential contender, told Politicker's sister site, PolitickerNJ, that he has no doubt Mr. Christie could be elected president.
"Of course he can win if he runs," said Mr. Giuliani.
"You've got to go to all the people and explain what you've done here and then show them how it happens for the rest of the country," he added.
Mr. Giuliani had a busy day today, campaigning with New York City mayoral candidate Joe Lhota and Mr. Christie, who is facing Democrat Barbara Buono in his re-election bid.
And despite some similarities, the former mayor said 2016 would be very different from his failed bid in 2008.
"No two elections are ever the same," he said. "2016 is going to be very different than 2008 was."