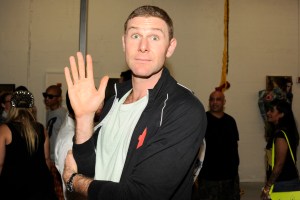 The Jersey-born artist Daniel Colen once collaborated with his friend and frequent creative accomplice Dash Snow on an installation called "Hamster's Nest," which showed at the Deitch Projects. Inspired by "trashing hotel rooms while naked, high on coke, Ecstasy, or mushrooms," according to a 2010 profile in Black Book, the piece required 30 nude volunteers and 2,000 shredded phone books. Sober now and with showings in the Whitney, and the Gagosian and Saatchi galleries to his name, Mr. Colen has adopted mellower habits of late. Now he has a pad to match: the former wild child just paid $2.6 million for a four-bedroom duplex condo in a townhouse at 71 Pierrepont Street in Brooklyn Heights, according to city records.
The renovated unit, which listed with Phyllis Norton-Towers at Brown Harris Stevens, is serviced by an elevator that opens "directly onto a foyer," according to the listing, and boasts two—count 'em—two Miele dishwashers. A good thing, too, as Mr. Colen has been known to make something of a mess in the grip of inspiration: in addition to creating "Hamster's Nest," he has boiled multicolored chewing gum to use in place of paint and produced a series of canvases known parenthetically as "Birdshit."
And though the artist's munchie days are behind him, he is now also the owner of Miele triple ovens, should he be seized by the urge to bake—you know, cookies. A wood-burning fireplace and a private terrace round out the dignified appointments.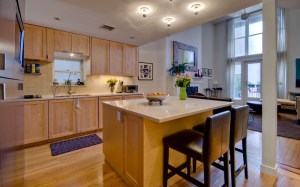 The brownstone's tree-lined north-Brooklyn block is just a hop-skip from the neighborhood's main commercial thoroughfare on Montague Street, and not much farther from the embarrassment of shopping and and dining options on Court and Smith Streets. Sellers Jeremy and Miriam Fox, who bought the unit in 2006 for $1.6 million, are two no doubt very happy beneficiaries of their borough's ascendance.
We only hope that with Mr. Colen in such close proximity to her co-op apartment on Hicks Street, Lena Dunham will bring him on as a consultant the next time Girls inevitably depicts a grungy, drug-fueled loft party. Though Ms. Dunham is relatively new to Brooklyn Heights' refined and straight-laced environs, her stagings of Mr. Colen's one-time milieu suggest that she's lived all her life amongst the pampered and privileged. Perhaps Mr. Colen could even resurrect "Hamster's Nest" to help Ms. Dunham get the idea.