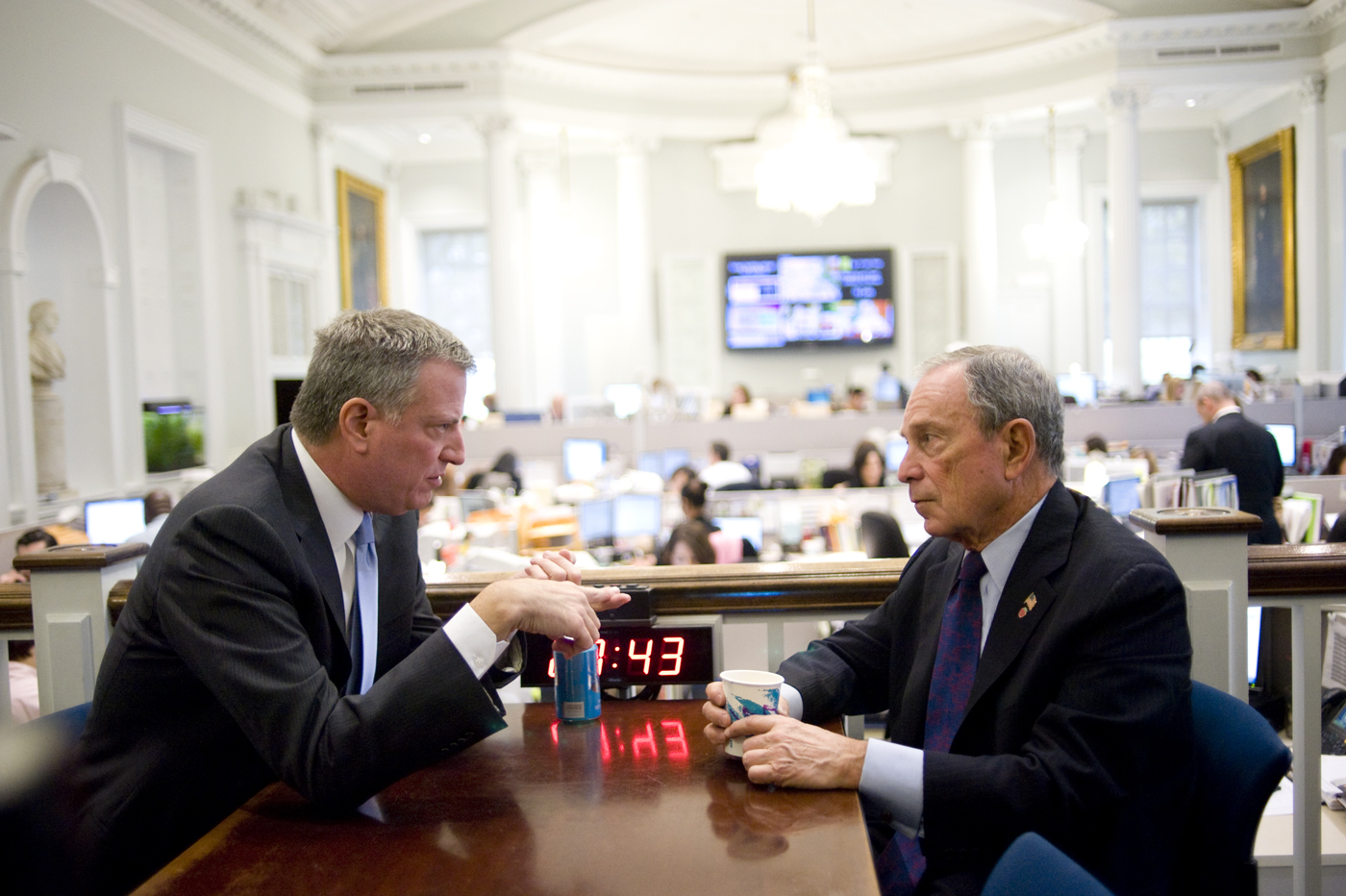 Bill de Blasio, elected the city's 109th mayor yesterday, met with outgoing Mayor Michael Bloomberg in City Hall this morning to discuss his transition to the powerful office.
Mr. Bloomberg, who endorsed no one in the race, congratulated the Democrat after his overwhelming victory last night–signaling that the billionaire mayor would likely facilitate a cordial transition for Mr. de Blasio.
A longtime critic of the incumbent, Mr. de Blasio won both the primary and general election by framing his candidacy as a stark departure from Mr. Bloomberg's 12 years in power. In turn, Mr. Bloomberg at one point blasted Mr. de Blasio's "class warfare" agenda.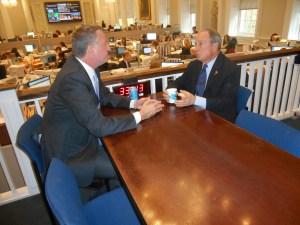 But whether or not their meeting included any back-and-forth was not immediately clear; the two men spoke in barely audible whispers on the stage of the City Hall's bullpen, elevated above the City Hall workforce. A digital clock at the table–where Mr. de Blasio had a can of soda and Mr. Bloomberg clenched a coffee cup–counted the length of the meeting.
When members of the press, was escorted up to the bullpen for a brief, 30-second photo-op, the two had already been talking for more than 30 minutes.
Neither took questions from the media.
Update (1:05 P.M.): 
Talking to reporters at a presser announcing the launch of his transition efforts, Mr. de Blasio elaborated on the meeting with Mr. Bloomberg.
"We had a very, very productive meeting this morning for about an hour and he and his team have been very forthcoming, very positive in offers of help, every kind of assistance. It's obvious that this is gonna be a smooth and productive transition," he said. "I want to thank him for the spirit with which he is approaching this and for the helpful advice he gave this morning."
Mr. de Blasio later described it as, "a very cordial conversation, a very helpful conversation, very collegial. He laid about some of the issues facing the city in the near term that he is working on, he talked about some of the ways that he had put together his transition process, which was very helpful. And we agreed to stay in regular touch."
But what he most appreciated, he said, was a promise, "that his team would be available to us throughout this process. They obviously have prepared transition memos … They want to be of any and all help they can to us and I appreciate that."
Mr. de Blasio also made it clear that they'd be working closely together on next year's budget.
Additional reporting by Jill Colvin