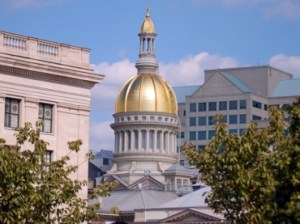 TRENTON – Political anger continued to echo along Statehouse corridors today after the hearing this morning into Port Authority lane closures at the George Washington Bridge in September.
Transportation Committee Chairman John Wisniewski, (D-19), Sayreville, a longtime critic of the Authority, blasted Deputy Executive Director Bill Baroni after the former senator's appearance, using words like "ham-handed'' to describe the Authority lane closure process, and calling Baroni's appearance and attitude "clownish.''
Assemblywoman Linda Stender, (D-22), Scotch Plains, accused the Christie administration appointee of participating in a cover-up.
Though today's hearing was in the Assembly, upper chamber lawmakers made their feelings clear.
This afternoon Sen. Kevin O'Toole, (R-40), Wayne fired back. .
"Today's hearing is an example of the type of government waste that happens when out-of-touch Democrats try to score political points against an ever-popular governor," O'Toole said. "What could possibly be the reason to hold a hearing specifically for Fort Lee commuters, to the determent of commuters from elsewhere?"
That gets to the heart of the matter: The committee Democrats this morning wanted to dig deep for details about who knew what when. They wanted Baroni to supply names and emails about how the decision to shutter Fort Lee lanes was reached.
Baroni kept attempting to steer the conversation today back to the overarching concept of the Authority finding out why a few thousand Fort Lee commuters are allowed to inconvenience the other 95 percent of the bridge users.
As a host municipality for the world's busiest bridge, there are three lanes dedicated to Fort Lee commuters.
The lane closures necessitated by a traffic study in September dealt with an issue that has been postponed for too long, Baroni would say, only to have Wisniewski pull the questioning back to chain of command accountability.
"Five legislative districts in this state have more commuters who use the bridge than Fort Lee, including nearly 6,400 from my District 40; 6,767 from District 36; 21,670 from District 37, which includes Fort Lee; 8,226 from District 38; and 8,316 from District 39," O'Toole said in a release. "Are these New Jerseyans not as important as Fort Lee residents?"
"If, we in the Legislature are interested in conducting a fair investigation about commuting, it must start by addressing the concerns of the 95 percent of commuters," O'Toole said. "For example, why was a sweetheart deal done that gave Fort Lee three lanes and a dedicated exit? Who thought this was fair? If we are going to be honest with the citizens of New Jersey then let's be honest, this certainly isn't it."
But Senate Democratic Majority Leader Loretta Weinberg sounded off as well.
"After two and one-half months of stonewalling this is the best story they could come up with," said the senator who also accused the Authority of a cover-up following a meeting two weeks ago.
"Their so-called explanation was sketchy and evasive, reminding me of the proverbial excuse 'the dog ate my homework.' They failed to give an adequate accounting and they failed to answer the key questions.
"If the original intention was really a traffic study I expect to get the documentation, as part of my Freedom of Information request to back up that claim, including the authorization and the role of Port Authority officials in the chain of command."
At the hearing, committee Republicans came to Baroni's defense.
Brian Rumpf, (R-9), Forked River, said Baroni essentially apologized on behalf of the Authority and pledged greater openness in the future.
John Amodeo, (R-2), Northfield, jumped on the topic of fairness that his Democratic colleagues on the committee talked about.
"One big lesson I learned today,'' Amodeo said, "is that an hour and 25 minutes later you hear from the other side,'' referring to the amount of time given to Democrats' questions before a Republican was allowed to weigh in.
To Baroni, he said: "You were put there to do the job for the people of the state of New Jersey and I thank you.''
But Assemblywoman Marlene Caride, (D-36), Ridgefield, criticized Baroni's mea culpa this morning as too little too late.
"For you to sit there and say there was poor planning … did you take into consideration how people were going to get onto the George Washington Bridge?"
However, it was another Republican committee member, David Wolfe, (R-10), Brick, who put in perspective the long-term problems of driving in northern New Jersey.
There was the time he intended to attend a Yankees game that had a 1 p.m. start time.
"I left at a quarter to 10. I got to the game at 2:30,'' Wolfe said.
And he told Baroni that the way he responded today "still leaves questions.''