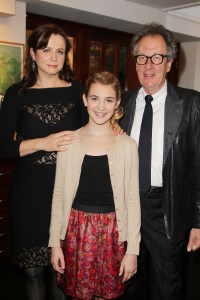 As we meandered through the civilized bustle that is legendary restaurant Michael's last week, Shindigger understood that the boozy power lunch is alive and well. Geraldo Rivera sat in the main dining room, absorbed in a heated conversation; fashion bigwigs chatted sotto voce, and Adria de Haume chirped "bonjour" from her table, where she dined with her son. But it was the private dining space in back that concerned Shindigger. There, Peggy Siegal had amassed the cast and crew of the highly anticipated feature film The Book Thief. 
Adapted by Michael Petroni from Markus Zusak's best-selling World War II novel, the flick, which takes place in Nazi Germany, tells the story of young Liesel Meminger (Sophie Nélisse), who goes to live with foster parents, played by Academy Award winner Geoffrey Rush and Emily Watson.
"When I first read the script, I was completely blown away by the whole thing," Brian Percival, the film's director, told Shindigger, as we politely gulped our red wine. "I suppose the hardest thing about shooting the film was the weather. We were in Germany in the middle of winter, filming in the middle of the night."
The director made sure to praise Mr. Rush's leadership on set. "The way that he acts and interacts with Sophie is so touching," he said.
Demoiselle Nélisse was equally effusive. "I just loved the whole experience," she dished in her sweet Québécois accent. "Not so much the famous part of it. I don't like to be the center of attention—well, not too much. I don't want to become like a diva. I want to stay grounded."
And though she hails from Montréal, she wasn't quite ready for that German chill. For one scene, she even had to wade into a frozen river. "I was going deeper and deeper, and I kept yelling, 'Cut the scene! Cut the scene!'"
Eventually, Ms. Siegal summoned Mr. Rush to make a speech. "When I read the script, I said, 'Don't act!' I'm not going to let melodrama and sentimentality overpower—the themes and the issues are much too important," he said, addressing the crowd.
"This is immensely unfair!" protested Ms. Watson, returning from the bathroom, unprepared to speak. "Nobody told me that I was going to say anything," the BAFTA award winner complained. "I've had a glass of wine, and I'm going to be completely inappropriate."
Ms. Siegal, without skipping a beat, grabbed Shindigger's goblet and offered it to the actress. We were honored and caught up with Ms. Watson for a little one-on-one time before making our exit.
"Filming in Berlin, where a lot of that stuff actually happened, and working with a German crew with parents and grandparents who were part of it, was very difficult to navigate," she explained. "There was a terrible, terrible sense of guilt."
On our way out, we chatted with Mr. Rush as he enjoyed a cigarette.
"Shamefully, I didn't know about the book, and it was from an Australian author," he confessed. "For me, the heights that the book achieved is up there with James Joyce or Laurence Sterne or Lemony Snicket."
We bid adieu to Ms. Siegal then, but she wasn't done with us yet, coaxing Shindigger the next day to another marvelous movie event, when Terry McDonell hosted a special screening of The Armstrong Lie at the Tribeca Grand Hotel. Originally developed by Academy Award-winning filmmaker Alex Gibney as a documentary about Lance Armstrong's comeback to the world of competitive cycling, the movie investigates the athlete's deceitful downfall.
"The biggest challenge was, when Lance finally confessed, taking the footage from our original movie and turning it into a completely different story," Frank Marshall, the director of the film, told Shindigger at the after-party. "It's not a story about doping; it's a story about power and the dangers of a winning-at-all-costs attitude."
On a lighter note, we inquired about the filmmaker's Halloween plans. "I'm going to a dinner party," he said. "I'm going as Lance."
Of course he is.
On Halloween day, Shindigger joined celebrity chefs Amanda Freitag and Marcus Samuelsson as they prepared the menus for Unicef's 2013 Snowflake Ball, which will take place in December. Ms. Freitag designed the appetizer, while Mr. Samuelsson handled the dessert.
"We're the bookends," she jested in the bowels of Cipriani Wall Street's kitchen. "For me, step one is always the season and what will be great during that time of year," she continued. "Step two is how many people."
Plenty can go wrong at these highfalutin galas, the chef explained. "The worst thing at events is running out of food and then really having to cut down portions," she lamented.
At the moment, Ms. Freitag was debating what type of cheese to add to her kabocha and acorn squash salad: cheddar or Parmesan. Her gut was telling her the latter.
"If I dress it before and the speeches go long," warned Cipriani USA's executive chef Silvano Fiorindo, "disaster!"
And there were other important choices to be made as well. Individual prime roast filet of beef with Amarone wine sauce or Wagyu strip loin steak with Veneziana sauce? Chilean sea bass with miso glaze or halibut with zucchini and olives?
Shindigger was more interested in the red wine debate: MaremmAlta Micante Rosso or Tenuta Oliveto Il Roccolo Rosso Di Montalcino?
We volunteered to try both. Life is full of terribly difficult decisions.