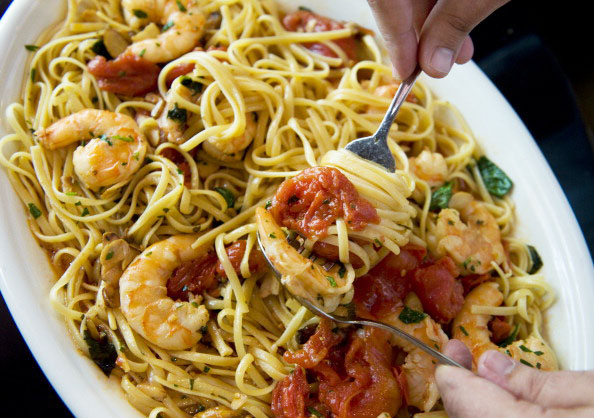 It's a good thing Carmine's, the famous Italian family-style restaurant, isn't known for its entryways.
The entrances top a long list of tweaks that will be made by the chain's two Manhattan locations as the result of a settlement in a lawsuit filed today by the U.S. Attorney's office. The suit cited several violations of the Americans With Disabilities Act, which also comes with a $10,000 civil penalty.
According to the suit filed by Preet Bharara, U.S. Attorney for the Southern District of New York, each Carmine's has to shape up to comply with ADA regulations. The Upper West Side restaurant's shortcomings include doors that are too tough to open, narrow pathways between tables, and too high a takeout counter. The Theatre District got slammed for its high coat check counter and lack of a raised-character sign near the restroom door. Neither restaurant had a fully accessible toilet.
Most small changes must be made within 90 days. Larger structural issues – like the Upper West Side location's tight bathroom hallway – aren't due until November 1, 2014.
Preet Bharara, U.S. Attorney for the Southern District of New York, announced the filing and settlement of the lawsuit, which was part of the Manhattan Restaurants ADA Compliance Initiative. The Initiative uses the 2011 Zagat Guide's "most popular" list to probe busy hubs for ADA compliance.
Carmine's declined to comment on the suit. Perhaps they're too busy scoping out contractors?