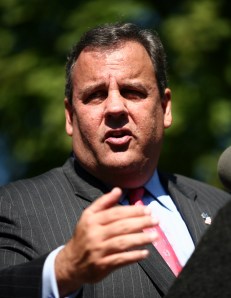 TRENTON – The race is over and in the books.
With Gov. Chris Christie's 2013 romp to a second term two weeks ago comes increased speculation of New Jersey's governor mounting a presidential bid. And there's good reason to think that, say political observers, who suggest Christie's winning numbers warrant further consideration.
The governor's wide margin of victory in the November election against Democratic challenger Sen. Barbara Buono was helped in no small part by his ability to grab nearly every voting demographic in the state aside from Democrats, liberals, African Americans and young voters ages 18 to 29, according to exit polls. In his more than 20-point re-election, the popular incumbent even picked up the female vote 57 percent to 42 percent against his rival, who ran on the state's first-ever all female ticket with Lt. Gov. hopeful Milly Silva.
The significance of Christie's ability to make gains among demographics where he's traditionally struggled to gain strong support is no insignificant feat, observers say. More importantly, Christie's boost among women in the recent statewide election could play big on the national stage.
"The biggest thing that you can walk away with from his campaign is that he can go to movers and shakers within the Republican Party and say, 'I know I have this persona of being very aggressive and being a tough talker, but I still managed to get the women vote [in New Jersey],'" said Brigid Harrison, professor of Political Science and Law at Montclair State University.
"That's pretty serious bragging rights," she said.
"When we talk about women candidates we assume that women are going to vote for women no matter what, and that's false," said Harrison, mentioning such national figures as former Alaska Gov. Sarah Palin.
The winning equation, she says, is a candidate who appeals to women voters on issues most salient to the demographic. It's not abortion that's likely to specifically galvanize women, she said, it's issues including foreign policy and gun control that are proven to be visible dividers in gender-gap polling and are likely to resonate most among female voters.
"Then," says Harrison, "that person has the ability to make inroads."
Despite his success with women in New Jersey, it's yet to be determined whether Christie would enjoy similar success on the national stage.
"It's all Sandy," said Patrick Murray, director of the Monmouth University Polling Institute, referring to the 2012 superstorm that devastated the state but helped rocket Christie in the polls.
"It really is," he said. "The same blue voters, women, Latino and young voters who gave Christie the win as governor would not vote for him as president."
The governor's popularity following Superstorm Sandy was based on Christie's handling of the storm and his ability to govern the state – not the country, Murray notes. New Jersey voters may lean Democratic, but they're still able to elect a politician they believe can best lead the state despite not agreeing with his entire political platform.
"After Sandy, the gender gap in his job approval numbers just disappeared," he said.
Prior to Sandy making landfall, Christie's approval and disapproval among women in the state was 47 percent to 40 percent, respectively, according to a September 2012 survey. The next poll taken after Sandy indicated Christie's approval jumped 66 percent to 23 percent among women who approved and disapproved of his performance, respectively.
In June, when Christie was leading in the gubernatorial polls by about 30 points, he led among women by 26 points, according to Monmouth polling. In August, when his lead dipped to 20 points, the governor's lead among women dropped to 15 points.
Despite incremental dips, Christie's performance with female voters remained solid, and, Murray suggests, it's because the Democratic candidate failed to touch on issues that really resonated with women and other Garden State voters.
"There are issues that New Jersey voters care about," said Murray, rattling off property taxes and overall affordability of living in the state as examples.
"These are the things that these voters care about and that Buono didn't talk about," he said.
National polling finds Christie is a near tie in a 2016 presidential contest against former Secretary of State Hillary Clinton. In a recent Quinnipiac poll, Christie took 43 percent of the vote in a potential matchup against Clinton's 42 percent.
The governor's performance in the recent election and polling conducted years ahead of the next presidential election means first determining if Christie can maintain support from women and whether a candidate with sufficient means can counter his message, political observers say.
Some in New Jersey even argue there's a precedent in the state that lends support to the position that Christie is vulnerable with women, and they point to Christie's first success over former Gov. Jon Corzine.
"In 2009, the 'Mammos Matter' [campaign was rolled out] and it turned things around," said one Democratic insider, who conceded the effort wasn't enough to give Corzine a win, but who pointed to 2009 polling that indicated the gubernatorial race tightened around the time the campaign honed in on the message.
Corzine's campaign drilled Christie on supporting mandate-free health coverage after video surfaced of the then-gubernatorial hopeful getting in a back-and-forth over health care mandates with a cancer survivor. The Corzine campaign repeatedly attacked Christie over insurance coverage of mammograms.
Corzine, who trailed in nearly every poll against Christie between the end of January and early October, finally picked up some steam in gubernatorial polls despite ultimately losing the election.
The effect, some insiders argue, showed a weakness among a critical voting bloc if a candidate with the means could run a counter campaign.
However, others say, Christie's made significant inroads and has more than enough time to hone his ability to reach across traditional Republican and Democratic demographic lines.