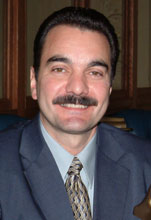 TRENTON – The Assembly's speaker-elect says he believes the lower chamber's sponsor of its version of the DREAM Act is "open" to the possibility of the bill mirroring the Senate proposal.
Speaker-elect Vincent Prieto (D-32) suggested an Assembly version of a bill expected to be released from a Senate panel today will include a provision for providing certain undocumented students financial aid.
"That's the discussion we're going to have," said Prieto, referring to talks within his caucus.
He added, "That's my goal."
Currently, the Assembly version of the bill passed in committee in June would allow undocumented immigrants to be eligible to receive in-state tuition at state colleges. However, the Senate version would also permit certain undocumented students to be eligible for financial aid.
The Senate version is the preference of DREAM Act advocates and the bill is expected to be released from committee today and voted on next week by the full Senate.
Ahead of the recent election, Gov. Chris Christie signaled he would support the legislation, but didn't give details of what he would accept as a final product.
Assemblyman Gordon Johnson (D-37) is the bill's prime sponsor in the lower chamber.
Earlier this week, mayors of 10 New Jersey cities called on the Legislature to adopt Ruiz's proposal. The mayors announced their support in a letter that was signed by mayors representing some of the state's largest cities, including Newark, Jersey City, Elizabeth and Camden.