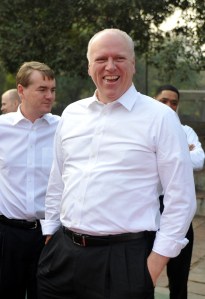 As the City Council's growing Progressive Caucus sways the council speaker's race, insiders are questioning whether their sizable bloc of Queens members will remain loyal to the caucus–or be picked off by their county leaders.
Members of the caucus have pledged to remain unified as they try to crown the city's second-most powerful leader, even though they have yet to decide which candidate to support. But some wonder whether Queens Democrats–whose bloc vote has made them the most influential force in past speaker's races–may stand in the way.
The caucus, which is expected to number roughly 20 next year, currently includes at least six members who hail from Queens, including the newly-elected Daneek Miller and Costa Constantinides. (Other county Democratic organizations, notably Brooklyn and the Bronx, also control a significant bloc of votes.)
How that will impact the race for speaker remains unclear, but tensions are openly simmering between the ambitious, left-leaning caucus and the Queens Democratic Party, led by Congressman Joe Crowley. Crain's New York Business reported that a meeting between the two was broken off when they couldn't agree on who would be allowed to attend. The Queens Democratic Party did not return a request for comment.
Interviews with a wide range of Queens sources yielded varied opinions. But overall, political observers and even caucus members aren't certain that Queens can be bucked completely. "If I had to guess right now, I think the Queens elected officials will most likely line up with county in the end," said term-limited Councilman Peter Vallone Jr., who hails from the borough.

For some, the benefits of the party's backing seem too enticing for members to refuse.
"Is anybody going do more for Queens members than Crowley will?" asked another Queens Democrat, alluding to the choice committee chairmanships and election ground troops the county organization has bestowed upon members in the past. "What will the Progressive Caucus do for Queens members, for their ambitions, locally and in the future?"
Mr. Miller, who defeated a county-backed candidate to win his seat, nonethless reaffirmed his pledge of loyalty to the caucus. "The caucus has agreed to vote as a bloc," he told Politicker, adding: "I think that people are firm in their commitment to a progressive New York City and the bottom line is I expect they will live up to their commitment."
Mr. Constantinides, who did not return a request for comment, pledged to support the caucus upon his election but remains a close ally of Mr. Crowley.  The other four Queens members of the caucus–Donovan Richards, Danny Dromm, Jimmy Van Bramer (who has floated his name for speaker) and Julissa Ferreras–offered few hints on their plans today.
"I'm interested in both sides winning and I hope an agreement is reached that is beneficial in moving those left behind during the Bloomberg era," Mr. Richards said in a statement, failing to indicate his preference one way or the other. Mr. Dromm had even fewer words to offer, declining to comment. Mr. Van Bramer and Ms. Ferreras did not return requests for comment.
(Mr. Richards, Mr. Van Bramer and Ms. Ferreras backed the county's candidate for mayor, Christine Quinn, one noted litmus test of loyalty.)
If the county organizations across the city remain unified, that may be beneficial for Queens Councilman Mark Weprin, a strong contender in the speaker's race. If, however, the progressives hold their ground, that could vault a liberal firebrand like East Harlem Councilwoman Melissa Mark-Viverito to the coveted post. Still others, like East Side Councilman Dan Garodnick, appear to be trying to forge a middle ground between the two.
It's also not clear whether the aims of the county organization will run counter to the caucus. The caucus is gunning for progressive legislation and rules reform to put checks on the power of the speaker; the Democratic establishment wants coveted committee chairs for its members and jobs for loyalists at council headquarters. Scenarios still exist where both parties could walk away from the table satisfied.
"At the end of the day, you have a body that will agree to some level of rules reform and that includes, in its leadership, more progressive bloc leaders," said a source close to the negotiations. "But that doesn't preclude people who are loyal to the Queens county organization or any county organization. There's ample opportunities to have conversations about all things and make most people happy."
The speaker's race will be decided early next year by a majority-vote of the 51 council members.