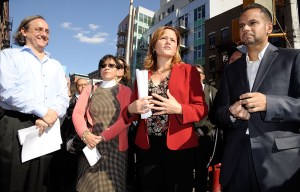 While Councilwoman Melissa Mark-Viverito enjoys what some members see as the tacit support of the mayor-elect and the unabashed backing of influential labor groups, her own left-leaning ranks have not yet completely coalesced around her speaker candidacy.
Sources within and close to the Progressive Caucus, a coalition of left-leaning council members trying to steer the race for the city's second most powerful post, say the group is confident they can remain united but have not committed to backing Ms. Mark-Viverito, a liberal firebrand from East Harlem. Although a majority of caucus members appear to favor Ms. Mark-Viverito, Dan Garodnick and–to a lesser extent–Mark Weprin enjoy support among some caucus members, sources said.
Council members inside and outside the caucus caution that the inside-baseball contest, to be determined by the 51 members of the council come January, is very much in flux, with unanswered questions about the role the mayor-elect and five Democratic county chairs will play.
"The caucus hasn't decided on a candidate," a highly knowledgeable source told Politicker yesterday. "The biggest variable, the big kahuna variable, is de Blasio and his people–they have signaled, winked and made their preference clear with Melissa Mark-Viverito. But there's a big difference between signaling, winking and breaking arms and pushing people a certain way."
"The county leaders don't want Melissa," the source added. "The question is, does de Blasio want to start off his administration potentially having blood on floor, having to force his hand upon the county leaders? There will be resentment in the council if members feel like a decision is made for them."
Members of the caucus boast of their unity and willingness to flaunt Democratic county leaders in Brooklyn, Queens and the Bronx, but few were willing to admit on or off the record that they were behind a single candidate. The real groundswell of support propelling Ms. Mark-Viverito candidacy at this point, insiders say, is organized labor: SEIU 1199, as well as the Working Families Party and New York Communities for Change, have been lobbying aggressively for Ms. Mark-Viverito, allowing her to wield far more surrogates than her rivals. (After publication, the WFP reached out to Politicker in order to insist they've been neutral in the process. "We're supporting the progressive bloc, and will wait to see who they choose," Bill Lipton, the party's deputy director, said in a statement.)
"1199 is giving Melissa momentum and the appearance of Bill de Blasio's support which is also giving Melissa momentum," explained one caucus member. "No one is united around one candidate. Each member … has his or her own set of relationships, loyalties–it's hard right now to pressure members. No one wants to be on the losing end and a lot are taking a wait and see approach."
"This has really been a union-driven campaign. Major unions prefer to have Melissa as speaker," echoed another council member unaffiliated with the Progressive Caucus, who argued that Mr. de Blasio could crown Ms. Mark-Viverito if he simply spent one hour on the phone demanding members vote for her.
The caucus has met often over the past few weeks, but their discussions have been centered around "processed-based" reforms to the council itself rather than who to support for speaker, according to sources privy to the meetings.
Even some boisterous backers of Ms. Mark-Viverito in the Progressive Caucus have not rejected outright the candidacy of Mr. Garodnick. Manhattan members in particular are still drawn to the East Side lawmaker, who is known as a competent and fair negotiator. The council's large Black, Latino and Asian Caucus, once co-vice-chaired by Ms. Mark-Viverito, is also not united around her candidacy, according to sources close to the caucus.
Asked whether the hype for Ms. Mark-Viverito was over-stated, Mr. Garodnick told Politicker the race was still far from decided. "I think that at the end of the day, there are 51 member who are gonna be casting votes here and it is far too early for us to even predict how this thing turns out," he said, speaking after a candidate forum yesterday.
At the same forum, Ms. Mark-Viverito said the caucus, bolstered by 18 to 20 incoming members, had a clear "interest in who the next leader of the city council's gonna be," but hedged when asked whether the group could present a unified front. "That's what the work that lies ahead. There will be, I think, a unified number of votes. How many, at the end of the day, may not be clear. But there is definitely a very strong, coordinated effort to meet, to advocate, to look at the issues, to look at the process, create a process."
She also welcomed the union backing but stressed that her focus was on communication directly with fellow members.
"Look, I am focused on having communication with my members and speaking to them and presenting what my vision of the City Council is and asking for their support. There are people from all sectors that are interested in weighing in on this issue," she said.
Mr. Weprin also argued his rival didn't have a lock on all the caucus's votes.
"I don't think there's any doubt Melissa's the front-runner right now," he said. "It's a long race, though."
Additional reporting by Jill Colvin. Updated (3:43 p.m.) With an additional response from the Working Families Party.