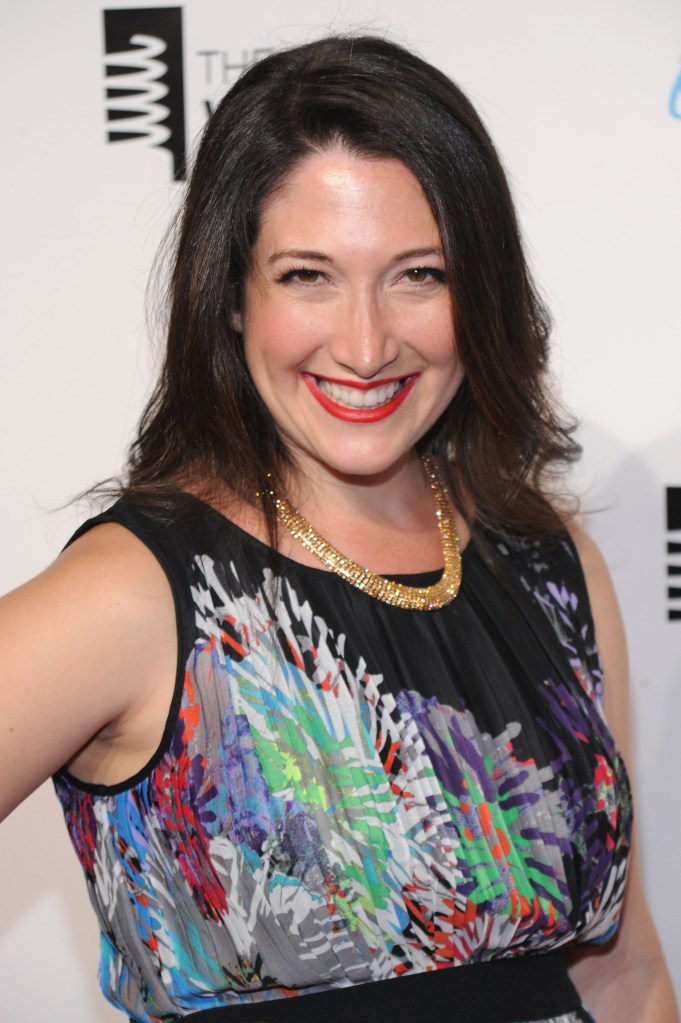 "The car sitting there—it's not good or bad. It's the driver that gets in it," Randi Zuckerberg informed the Transom, explaining her philosophy of how to behave online. "I think for every opportunity that technology creates, it also creates other problems," she added. "It's up to us to figure out how we put some etiquette and some rules around this Wild West."
We were in a small back room in the Union Square Barnes & Noble with the author, who had just finished a Q&A withArianna Huffington about her new books, Dot Complicated for adults and a picture book simply titled Dot. (She also runs a website of the same name). Decked out in polka dots, Ms. Zuckerberg was both chipper and stubbornly on-message about the importance of tech/life balance.
It's disconcerting carrying on a conversation with Ms. Zuckerberg—her voice has much the same inflection as her famous brother Mark's, except she chatters at a mile a minute. (It's hard to imagine her reserved younger sibling volunteering anything other than info about his company, and as little of that as possible.) And of course, many people picking up the books seem determined to interpret them as pro or anti-Facebook; she has seen headlines blaring both.
"I'm definitely not advocating a complete disconnect by any means whatsoever," she said. "I don't think that's a great way for any of us to stay employed, to have friends." Then again, maybe put down the phone once in a while: "We should make sure we're not going too far off the other spectrum of complete over-sharing, being completely obsessed in our technology," she said.
"I do think it makes a great provocative headline for people to write," she added. "I get it. I'm in the media business."
This is the tone of much of Dot Complicated, which is part memoir, part attempted guidebook for digital living. When not reminiscing about her days at Facebook, she dispenses no-brainer advice like "it's O.K. to friend the boss" and "digital posts can have real-life consequences." The picture book is similarly middle-of-the-road, refusing to tell kids to log off entirely but also encouraging them to get outside once in a while. ("If I waited until people were old enough to read Dot Complicated to understand the message, it's too late," she said. That sounds ominous!)
It's telling that the book was inspired in part by last year's holiday fracas, when a family photo Ms. Zuckerberg posted on Facebook quickly made its way to Twitter. "All I could think about was how 'dot-complicated' this whole situation was," she writes, adding that it set her on a new mission, helping us all sort out our digital etiquette dilemmas.
But this approach puts most of the onus on individuals—maybe if Facebook's privacy settings weren't so opaque, that photo wouldn't have ended up on Twitter—hence the schadenfreude-y tone of much of the media coverage. So do social media companies have some obligation to help users out with these digital quandaries?
"I think there definitely is a responsibility if they see things cropping up on the platform, like extreme cyberbullying. And I think a lot of the social media companies are getting better and better at dealing with that," she said.
"That being said, I think it's really easy when you're working at a company like Facebook, Twitter, YouTube, any of these companies, to think about right now," she continued. "It's hard to lift your head up and look out 20 years and say, 'Gosh, are the things that we're building causing challenges or complications for the future?' It took me leaving Facebook to understand that."
What's not clear yet is what Mark makes of all of this. "I just actually gave him his copy last week," she told the crowd during the Q&A, admitting she wanted to write the whole thing before anyone in her family saw it.