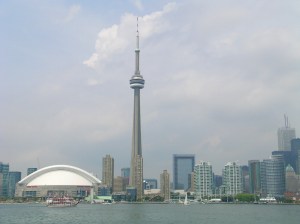 How do you figure out that Toronto is the most "youthful city" in the world, but good ole New York is number three?
If you answered, "distribute a 10-question survey to 1600 15-29 year olds," then your methodology lines up with YouthfulCities, a global social venture. Their new survey pinpointed stuff that matters most to people under 30 and ranked 25 world cities by criteria including music and film, digital access, and food and nightlife.
New York topped the city list in civic participation, but slagged in education access. Toronto shined in areas like youth employment diversity, sport and public space. (Not to mention whimsical, kooky leadership.)
Pulling up the rear was Kinshasa, Democratic Republic of the Congo. (Though their carbon emissions were the lowest per capita, to the chagrin of urban cyclists.)
We guess we owe our third place finish to the fact that "Dishwasher density per capita," and "living rooms that aren't kitchens" weren't categories. But is anything more "youthful" than being priced out of a life without roommates?
We're just going to go ahead and reinterpret "youthful" as "immature," because you know, then we win.