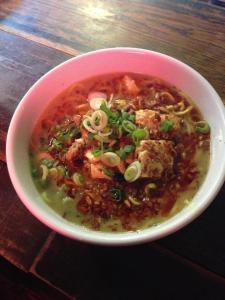 It's been Mission: Impossible for Lower East Side hotspot Mission Chinese Food.
Bowery Boogie recently discovered a notice taped to the window of Danny Bowien's Orchard Street restaurant, announcing that the restaurant would be closed indefinitely:
Dear Patrons and neighbors,

We regret to inform you that we will be closed until further notice. There are many issues with our building and the surrounding area that we have been aggressively addressing. Unfortunately, our best efforts have not been enough to date. We will remain closed until all issues have been completely rectified and thank you for your patience and support.
Despite being known for lines of hungry guests spilling out the door and down the block, the restaurant has had its fair share of health inspection issues since its opening in 2012. In fact, It's only been a little over a month since the Health Department closed the restaurant for the first time, citing delightfully mouth-watering reasons like "Evidence of mice or live mice present in facility's food and/or non-food areas," "Toxic chemical improperly labeled, stored or used such that food contamination may occur" and "Food contact surface not properly washed, rinsed and sanitized after each use." I'll take the beef dumplings, please!
Evidently, things haven't improved since the restaurant's October 1 shuttering. The James Beard Award-winning chef says his restaurant's most recent closure is due to an illegal back room space…and still more  vermin. "We've been struggling with this space since we took it over," Mr. Bowien told the food blog this morning, "I had no idea what I was doing when I opened here. We got this space, it was a really awesome deal, but I realized that it wasn't up to code…It's the Lower East Side, so we've been inundated with a pest problem, and we had no one to point the finger at but ourselves."
Mr. Bowien reportedly said, "We'll reopen when we're ready to reopen."
And sorry, but we regret to inform you your god-forsaken wait to get into Momofuku just got longer.
UPDATE: The Health Department has issued the following statement to The Observer:
Mission Chinese restaurant was closed because it has a significant mouse infestation that requires correction. In addition, the inspection found food held at unsafe temperatures, and conditions that contribute to the presence of pests. Mice were the reason the restaurant was closed in October. Once they have hired a pest control firm to correct the problem, they can request a reopening inspection. Once reopened, the restaurant can choose to post a grade pending, or a C grade until the inspection is adjudicated at the Office of Administrative Trials and Hearings.