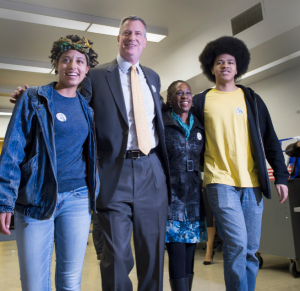 There's a storm a-brewin' in the media world in response to Richard Cohen's most recent Washington Post column, wherein a lot of inexcusable bigotry occurs in a very short span of words.
In an article comparing Chris Christie to his more conservative counterparts in the GOP, this is an actual paragraph that Mr. Cohen, who has been a liberal columnist at the Post since the 70s, wrote:
Today's GOP is not racist, as Harry Belafonte alleged about the tea party, but it is deeply troubled — about the expansion of government, about immigration, about secularism, about the mainstreaming of what used to be the avant-garde. People with conventional views must repress a gag reflex when considering the mayor-elect of New York — a white man married to a black woman and with two biracial children. (Should I mention that Bill de Blasio's wife, Chirlane McCray, used to be a lesbian?) This family represents the cultural changes that have enveloped parts — but not all — of America. To cultural conservatives, this doesn't look like their country at all.
We're not entirely sure who these "people with conventional views" are, but it sounds like Mr. Cohen is saying the GOP isn't racist—they just projectile vomit when white people marry non-white people. No big deal. They're also not homophobic—they just develop moderate to severe skin rashes at the thought of lesbianism.
Twitter, unsurprisingly, is raising hell:
There's also already a Change.org petition asking Jeff Bezos to fire Mr. Cohen in response to the recent column, insisting that his "views are reprehensible, and the Washington Post should not provide Richard Cohen with a platform to espouse his racist beliefs."
Granted, Mr. Cohen doesn't explicitly say that interracial marriages trigger his own gag reflex, but past offenses indicate the columnist might have a racial bias. In 1986, Mr. Cohen infamously wrote a piece in the Washington Post's Sunday magazine in support of D.C. jewelry store owners who denied black customers entry to their shops (accused of racism, The Washington Post later issued an apology). And in case you missed it, it was also just last week that Mr. Cohen learned that slavery was bad.
In the late 90s, he was also accused of inappropriate conduct towards a former Washington Post intern.
We think we know who people with conventional views are really gagging at.
UPDATE: Here's what Katharine Weymouth, Washington Post publisher and CEO of Washington Post Media, had to say about Mr. Cohen's column:
UPDATE2: The Washington Post itself addressed the controversy today, noting that "The baying for Cohen's head on the Internet quickly ensued — primarily from liberals who might otherwise consider Cohen, who has been a left-of-center presence on the newspaper's op-ed page for a generation, one of their own." Esquire's Charles Pierce got off a good line too: "If Newspaper Stupid had a top 40, Richard Cohen would be the Beatles in 1965."