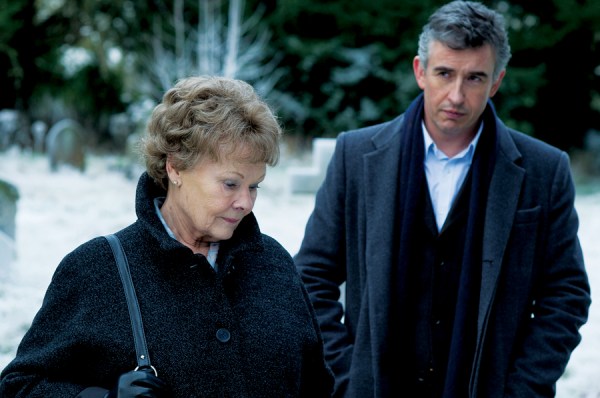 Philomena is not only my favorite film of 2013, but one of the most eloquent, powerful and perfect movies I have ever seen. A focused and triumphant performance by the miraculous Judi Dench keeps the harrowing aspects of a great story in flawless balance, and every other aspect of this film works like a hypnotic charm. Sensitively and carefully directed by Stephen Frears and brilliantly written by co-star Steve Coogan and Jeff Pope, it's a once-in-a-lifetime experience that deserves genuflection.
Ms. Dench gives a wrenching and deeply touching performance of feeling, wisdom and nuance without a trace of sentimental self-indulgence
in the title role of Philomena Lee, a survivor of the despicable Irish Catholic asylums loosely called convents operated by Magdalene nuns in the 1960s to punish wayward girls the church considered "sinners," many of whom were unwed mothers shut away by their families to hide their shame. The dehumanizing emotional and sadistic physical abuse they suffered as victims of moral rectitude were chronicled in the lavishly praised 2002 film The Magdalene Sisters. This is about one of those victims, a spirited broth of a woman who spent 50 years searching for the son she was forced to give up for adoption without consent.
After decades of fruitless prayers, a chance meeting at a party brings Philomena's grown daughter, a waitress, in contact with Martin Sixsmith (Steve Coogan), a disgraced political aide to Prime Minister Tony Blair now making a comeback as a journalist for the BBC. Ambivalent at first, he agrees to meet Philomena, and her arresting honesty and unpretentious wit intrigues him. The more he researches her story, the more intrigued he becomes by what became of Philomena's child. A paper chase leads to America and shocking revelations in Washington, D.C.
For anyone who laments the death of compelling stories in the wake of all the gibberish that passes itself off as filmmaking today, Philomena will revive your faith in movies. Like an overpowering novel you cannot put down, this gripping real-life story allows you to share the journey, step by step, as Philomena, who still clings to her faith, and Martin, a lapsed Catholic and devoted atheist, leave no rock unturned in their search for answers. After the long trip to the old convent, where the young Philomena endured so much horror, the remaining nuns are still hard and unrepentant, telling her the records were destroyed in a fire. But they have a gift shop, where they sell souvenirs for a profit, and a cemetery, where so many of the former girls and their nameless babies are buried. (It's a graveyard that plays a big role in solving Philomena's mystery.) With her batteries newly recharged, the sweet, unsophisticated Irish woman named Philomena is beginning to see the light. The more she delves, the more she discovers about her lost child and herself. The convent sold a lot of babies to wealthy American customers. One of them was Hollywood star Jane Russell. I won't spoil a film beyond reproach by revealing what Philomena finds out about her own little boy, but the facts that tumble out are as turbulent as they are startling. After all the clues are pieced together, the final explanation of what happened to the child—and the look on her face when she learns the truth—will tear your hear out.
Meanwhile, the cynical reporter and the innocent, religious naïf saved by unquenchable hope and indomitable spirit form an unlikely bond that leaves out no funny detail of their own mismatched friendship. Steve Coogan's writing is a major revelation, bringing to life Martin Sixsmith's 2009 book, The Lost Child of Philomena Lee, with great humanity and insight. He's a great foil for the star, the salt in her stew. As for Ms. Dench, the beauty of her spectacular moment-to-moment performance will leave you hanging on the ropes. One of the heroic masters of the craft and artistry of acting, she melts you with her radiance. Mr. Frears, a wonderful director of actors, is careful to give her enough adequate space to feel her way around in. Whether she sheds a tear for other people's pain or drives you crazy with her habit of repeating the endings of romance novels ("I didn't see that one coming!" is one of her favorite lines), she is so natural, understated and generous that you are never aware there's a camera in the room.
It's profoundly moving and thoroughly mind provoking, but despite the poignant subject matter, I promise you will not leave Philomena depressed. I've seen it twice and felt exhilarated, informed, enriched, absorbed and optimistic both times. This is filmmaking at its most refined. I will probably forget most of what happened at the movies in 2013, but I will never forget Philomena.
PHILOMENA
WRITTEN BY: Steve Coogan and Jeff Pope
DIRECTED BY: Stephen Frears
STARRING: Judi Dench, Michelle Fairley and Steve Coogan
RUNNING TIME: 98 min.
RATING: 4/4