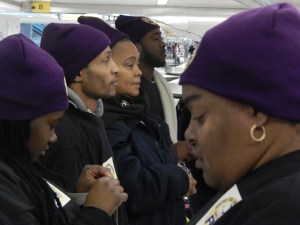 NEWARK – They showed up at the arrival gate where the cabs pull in to take travelers away from Newark International Airport, but the concourse and aircraft cleaners and baggage handlers didn't plan to go anywhere.
In fact, they say, they're stuck – with low wages and no way to get ahead.
Kevin Brown, vice president of SEIU 32BJ said what these workers experience constitutes an industry-wide problem.
"We think these airport workers are the largest concentration of minimum wage workers in New Jersey – well over 10,000 workers, said Brown.
This morning, the local VP and other 32BJ organizers joined the Rev. Ronald Tuff of First Bethel Baptist Church and about 30 workers here on the week of Thanksgiving to give voice to their plight.
"What do we want?" the reverend shouted in Terminal C.
"Justice!"
"When do we want it?"
"Now!"
The workers crisis say the airlines' practice of low-bid subcontracting at John F. Kennedy, Newark Liberty International and LaGuardia airports has put them on a poverty-wages payscale, submerged under those payments made to workers directly employed by the airlines and the Port Authority.
The SEIU said a new report from the University of California, Berkeley, found that airlines outsourcing of baggage porter jobs has more than tripled over the last 20 years – to 84% from 25% — while the real wages of both directly hired and contracted workers dropped by 45%, to $10.60 from over $19 an hour. At New York area airports, the pay for contracted out workers worsens. Workers who help travelers, clean aircrafts and provide security at airports are paid as low as $7.25 per hour, and most lack health insurance, paid sick leave and other basic benefits. The report also found that 37% of cleaning and baggage workers live "in or near poverty."
Brown said the union hopes to get the attention of the contractors, including PrimeFlight and AirServ; Delta, American; and United Airlines, which handles over 70 percent of the flights in and out of Newark.
"There are thousands of workers here whose jobs are mimunium wage, and these used to be good paying middle class jobs that have been contracted out to the lowest bidder," Brown told PolitickerNJ.com.
SEIU plans a bigger demonstration for next Thursday.
"We will continue to organize and raise attention to these issues," said Brown. "These are not kids; these are adults. They will get a raise on Jan. 1 (with the passage of the state miniumum wage) but you can't live on $8.25 an hour. They're still long way from being able to suvive. When these jobs are poverty jobs, it destroys our communitites. These workers are working not one but two jobs and that means they're not going to PTA meetings or other community events. This is strangling Newark, East Orange, Hillside and Elizabeth."
Before going to their knees in prayer, the workers loudly demanded improved working standards that would allow them to enjoy a proper celebration with their families.
"Like so many other airport workers who clean terminals and airplanes at Newark Airport," said Ulysses Grant, a veteran minimum wage aircraft cleaner, "I'm about to run out of money. Paying rent is a struggle for most. On minimum wage it´s more like a miracle. Juggling the bills has become my pastime. A turkey for my family? Maybe next year."
"Things got so bad I had to send my two sons to live with their grandmother upstate in Poughkeepsie because I cannot afford to take care of them on my income," Daniel Scott said. "As a security guard for Aviation Safeguard at LaGuardia Airport's Terminal A, I make $8 an hour with no benefits. When I got hired here the salary was $8 and, at $8, they expect me to pay my rent, pay my transportation ($112 a month), $8 to buy food, $8 to pay for utilities, and to be able take care of my kids on that. That is impossible. I cannot do it. I still have to pay my cell phone bill. I cannot pay these bills."