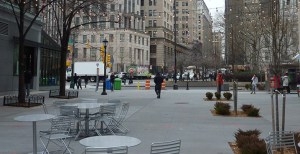 When they're not serving up delectable hamburgers and pumpkin pie concretes, Shake Shack employees are loitering in a nearby plaza, according to outraged neighbors.
The minimum-wage cashiers, burger flippers and shake-makers who work in the restaurant adjacent to Brooklyn's Willoughby Plaza enjoy its fresh air while participating in team-building exercises and training, according to 
DNAInfo
.
But on Monday night, Community Board 2's district manager Robert Perris claimed he saw at least 15 employees using the plaza on a daily basis this past summer—an action that community board member Hemalee Patel called "un-neighborly."
"Every time I walk past there they are…all over the plaza and people are unable to use the space. They're making a lot of noise, pushing tables together," Mr. Patel said, noting that such activities usually occur during the hour between 5 and 6 p.m.
Olga Alexandrovar, a local, doesn't see the problem with a few Shake Shack employees utilizing a portion of the 14,000-square-foot plaza, which opened in January. "They work here, too, and they are also our community," she said.
Mr. Patel argued that Shake Shack is no mom-and-pop shop, but rather a "huge" corporation. "You need team building? Then why don't you get an office space or rent some space?" Mr. Patel asked.
Better yet, have they thought of meeting at Starbucks?