StoryCorps celebrated its 10th anniversary on Wednesday night with a fundraising dinner hosted by comedian Stephen Colbert.
"You public radio types may recognize my voice from Fresh Air with Terri Gross or Wait, Wait, Don't Tell Me," Mr. Colbert said. "But those few of you who will admit to owning a television may recognize me from my show on Comedy Central, The Colbert Report."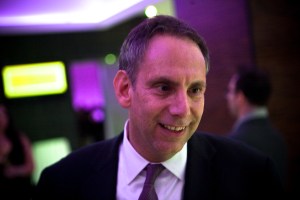 Despite Mr. Colbert's jokes about NPR listeners that were consistent with his persona, he broke character as he genuinely praised StoryCorps during an hour long speech.
The non-profit oral history project, aimed at capturing and preserving stories of ordinary people, started in 2003 with a sound-proof recording booth in Grand Central. Two people who know each other, guided by a StoryCorps facilitator, conduct an interview that is then archived at The Library of Congress (some stories also run on Fridays on NPR's Morning Edition).
When founder David Isay started the project, he expected it to run for 10 years. Now, a decade later, StoryCorps has recorded over 50,000 interviews and its so popular that as soon as a booth opens in a new city, Mr. Isay said, thousands of people sign up to be on a waiting list to tell their stories.
"StoryCorps is kind of the opposite of reality TV. Nobody comes to get rich, nobody comes to get famous–it's just telling someone that you love them by listening to their stories," Mr. Isay told us. "It's all about everyday, regular people and it tells us that these stories matter. All this wisdom is hiding in plain sight. You just have to listen."
Over seared shrimp and steak, attendees spoke about their favorite StoryCorps interviews from the past decade. Mr. Colbert interrupted the murmuring crowd and ran through the room, bursting on to the stage with his signature energy.
"Since 2003, StoryCorps has been sharing authentic American voices, average folks who are not rich or famous. And as someone who is rich and famous, I want to say that I'm offended by that," Mr. Colbert told the audience at Espace, the midtown event space. "You StoryCorps snobs have been excluding guys like me for years, but when you have to hold your fancy gala, who do call? Do you turn to one of your diverse cross-section of average citizens?"
It's true. For an earnest project dedicated telling the often heart wrenching stories of average folks, the celebrity was a draw. But despite laughter at Mr. Colbert's jokes, the most popular part of the evening was the stories themselves.
The audience, familiar with the popular pieces broadcast at the event, let out a collective "awww" when Mr. Colbert announced the first story, of Danny and Annie Perasa, a long married, very much in love couple. Mr. Perasa died shortly after the couple recorded the interview, which has since been animated (as a handful of the stories are). Ms. Perasa sat in the audience.
Another animated story, where a son with Ausberger's interviewed his mother about their relationship, also brought tears to the audience. The mother son duo, ordinary people turned celebrities for the evening, posed on the red carpet and talked to the crowd.
StoryCorps producers mouthed along to the pieces. After editing the segments, they knew the audio by heart (apparently, intimate knowledge of the stories doesn't curtail an emotional response).
The emotional response was shared by Mr. Colbert, who seemed to wipe away tears as he listened to the audio segments from the stage.
"I would like to tell you why I love Story Corps. We live in a time in which absolutely everything is a source of division. Everything plays as a political statement. Coastal cities versus small towns, MSNBC versus Fox, Costco versus Sam's Club," Mr. Colbert said. "But you don't hear any political agenda on StoryCorps. You don't hear any agenda at all. You just hear a desire to share."
Watch Danny and Annie's animated Story Corps interview:
[youtube=http://www.youtube.com/watch?v=WNfvuJr9164&w=560&h=315]