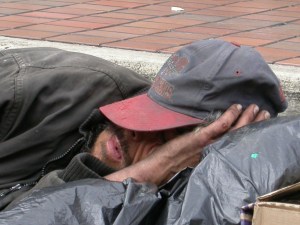 Try to get some shut-eye beneath Strand Bookstore's red awning and you might be in for a good soak.
Customers responded angrily to news that the shop was using a sprinkler system to shoo away the slumbering homeless. Until last night, a sign outside the Broadway bookstore read: "Warning: Sprinkler System Will Run Periodically From 10:30 PM-9:00 AM."
"It sounds like something you do to keep pests away, not people," Alex Calhoun, a 24-year-old Harlem resident and high school teacher, told DNA Info.
"It will certainly make me reconsider coming here again," energy specialist Ted Curtis said. "I just think it's barbaric."
An anonymous Strand employee admitted to the Post that the tactic carried an "element of heartlessness," but that he couldn't think of any other way to jettison vagrants who left behind a nightly mess of food and containers.
"These are people who need a place to shelter," he continued. "The fact that they are out there on the street . . . I'd hate for that to happen to me."
But not everyone feels that sorry for them.
"I'm going to come here whether they use those tactics or not, because this is my favorite bookstore in New York," Maria Chernaya, a 25-year-old recent graduate, told DNA Info. "There is no other bookstore with this kind of giant collection."
When asked about the sprinklers, Strand co-owner and granddaughter of Ben Bass, who founded the shop in 1927, said she was "not sure " why the sprinklers were installed.
Store manager Eddie Sutton claimed they were intended to clean the sidewalks, though he did not specify of what.