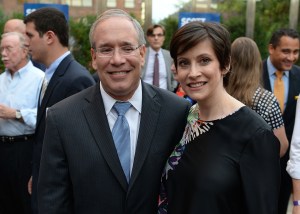 Though most attention has been focused on Mayor-elect Bill de Blasio and his incoming administration, other newly-elected office holders are getting ready for their transitions, too.
Incoming Comptroller Scott Stringer, who will replace John Liu come January, is set to formally unveil his transition team later this afternoon at an event in Lower Manhattan.
The names represents a diverse swath of interests, with business leaders like Kathy Wylde, the president and CEO of the Partnership for New York City, and union backers like Vincent Alvarez, president of the New York City Central Labor Council, and Ana María Archila, the co-executive director of the left-leaning Make the Road New York.
Mr. Stringer's camp is also touting the racial diversity of the group, which includes Ben Jealous, the former president and CEO of the NAACP, who began his career as a Harlem community organizer, and Félix Matos Rodríguez, president of CUNY's Eugenio María de Hostos Community College.
"During the campaign, Scott Stringer pledged to build the finest Comptroller's Office the City had ever seen, and today he is delivering on that promise. Comptroller-elect Stringer sought to build a team of advisors with a key sense of the issues facing New York City's working families–to that end, his Transition Team is reflective of the depth and diversity of this City and includes experts from all walks of life," his spokeswoman, Audrey Gelman, said in a statement.
The list further includes members with institutional experience, including Harrison Jay Goldin, who served as comptroller for 16 years from the mid-70s to late 80s, and Steven Newman, the current executive vice president of the non-profit Public Health Solutions who previously served as first deputy comptroller and–as a young engineer–helped design the lunar module's propulsion system.
The co-chairs of the team, which will be tasked with filling several dozen posts in the office, will be Robert Kasdin, the senior executive vice president of  Columbia University, and Ana Oliveira, who heads the New York Women's Foundation.