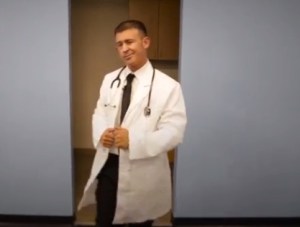 If you are a beautiful woman between the ages of 18 and 23 who desperately needs that staph infection looked at but can't afford health insurance, than let SeekingArrangement.com help!
The website that promotes "beneficial" friendships between (mostly) older men and younger women has launched a new campaign on the basis of what they claim to be the large influx of women who have signed up for their services recently looking for help covering healthcare. (We guess they need to adapt to the changing concerns of America.)

[youtube=http://www.youtube.com/watch?v=OQD5CqOsbNw&w=560&h=315]
In the video the bro-nouncer dons a lab coat and smugly informs viewers "At SeekingArrangement.com, you can pick and choose your own plan."
"Hello, ladies."
The waiting room is full of exotic, young women, who, the ad implies, are all in need of health care. (Lupus?) It's an image that undermines his prior statement; he–and any man on SeekingArrangement.com, by association–will be the ones "picking and choosing" between their share of desperate and possibly very sick women, not the other way around. As he walks his choice of female to the car:
"So if you're an attractive female–or male, if that's what you're into–" the announcer grimaces, because gross bro, "the door's always open for you. Don't get screwed…by the government! Get a Sugar Daddy today."
"I found my lipgloss!" his date exclaims with her head in his lap. And she's got that mastectomy covered twenty years down the line, too.
As the site's founder and CEO Brandon Wade told Newsweek, it's not like he's insinuating that women should be trading sex for healthcare:
"In a way it's true; in a way it's not," he says. "The website really promotes relationships that are mutually beneficial. Obviously, people are trying to set a higher standard in terms of who they date. They understand that in today's society, unfortunately, there are real life financial challenges. They'd rather date somebody who could alleviate these financial challenges."
Except that you have to imagine that it's easier to use the Obamacare website than troll the Internet in search for the kind of rich guy who'd pay for the pleasure of a woman's company with a long-term arrangement that involves signing a bunch of documents. But who knows, maybe you like doing things the hard (with Viagra, at least) way.