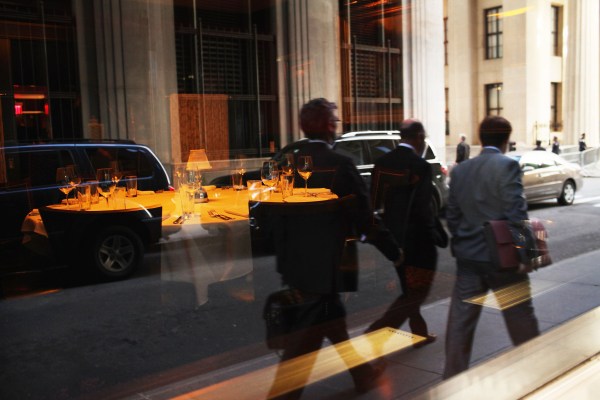 You might think that the Financial District is all work and no play. But if you think that, you haven't seen FiDi after dark. Venture down there some night, and you'll find a new crop of glitzy tastemakers have replaced last year's protesters.
The Nasties Are Coming Get ready to hear the tap of high heels on the Financial District's cobblestones. "There is a growing group of people that have moved to Financial District because their job is here or was relocated here," said Ariel Cohen, a broker in the Ariel Cohen Team at Douglas Elliman. "I expect we'll see more of that, especially with Condé Nast moving to the area."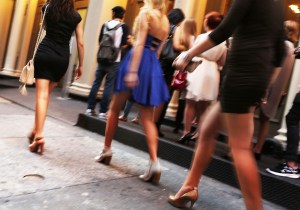 Conde Nast not in Times Square? Shocking but true. They're moving their headquarters out of the iconic building in Midtown to One World Trade Center, and will be taking over a million square feet from the 20th to 44th floor. They won't be alone. Potential tenants are already lining up for the 2014 opening of the 104-story skyscraper. "The impending completion of the new World Trade Center site will bring many thousands of new employees to the neighborhood on a daily basis. Many of these folks will want to live in the area for convenience to their place of employment," explained Ms. Chan-Brown, a licensed real estate broker at Citi Habitats. "This will inevitably drive up property values in the near and medium term. Additionally, the new Fulton Street Transit Hub and indoor mall is nearing completion." We can't see Anna Wintour taking the subway, but if the interns are still allowed, they might like it. And They'll Need A Bar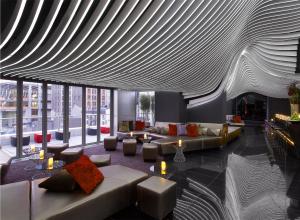 The kind of bar you can wear Prada to. Fortunately, the Financial District has them covered. And you'll need to think beyond just The Wooly – the one FiDi bar that everyone has already been to. You'll find trendsetters branching out to Gild Hall, a crown jewel in Thompsons Hotel's portfolio. Patrick Lily, a licensed associate real estate broker at CORE, notes that Gild Hall has its own memorable restaurant with Felice Ristorante & Wine Bar which boasts the kind of extensive regional wine line that you might need to peruse after a day dealing with your editrix. "Downtown is more of a lounge and bar area than a nightclub area," says Donald Sharpe, licensed salesperson at Halstead. "We have the super swanky types such as Vintry Wine and Whisky, Bar Seven at Andaz and the Living Room Bar which is at the W Hotel and Residences." "Long gone are the Gordon Gecko days where his clones were spotted everywhere," said Morgan Graham, a salesperson at Miron Properties. "A new Financial District has sprouted and is continuously redefining itself as trendy, young upwardly mobile, and urban."  And They're Entertaining At Home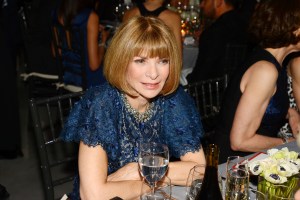 "Amenities galore!" said Naomi Muramatsu, a sales manager at BOND. "You don't ever have to step out of the building. [The buildings] have personal shopping with delivery services, dog-sitting, childcare, butler service, media screening room, full service spas, state-of-the-art-gyms, libraries, game room, zen gardens – You name it, they have it." Consider 20 Pine Street, which was converted in 2007 and boasts an elegant and contemporary interior designed by Armani Casa. And if your visitors aren't impressed by the designer, they will be by the 25th floor. It features an outdoor terrace lounge with a reflecting pool and sculpted garden, all set against the jaw-dropping backdrop of the city skyline. 75 Wall Street sits atop the Andaz Wall Street hotel and comprises of twenty-four floors. The residences include designed kitchens with fine Italian wood lacquered cabinetry, Caesarstone countertops, and appliances by Sub-Zero, Liebherr, Bosch, and Miele. Just in case you were one of those rare birds who wanted to cook at home. Food and Friends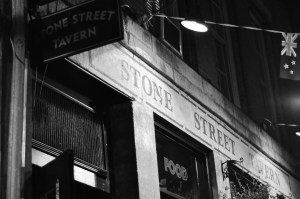 For the nights where you don't want to entertain on your building's rooftop terrace or in your dining room overlooking the Manhattan skyline, there are an abundance of dining experiences throughout the neighborhood. "It seems foolish as to not mention Delmonco's, Harry's, and Wall and Water," said Mr. Graham. "I love Stone Street restaurants," said Ms. Muramatsu. "I think this historic cobble-stoned pedestrian-only street and restaurant row with outdoor seating is a hidden treasure." "On Stone Street, Ulysses is legendary," added Richard Rothbloom, a broker at Brown Harris Stevens. "They feature one of the most amazing terrace spaces to sit and sip a cocktail which affords a mind boggling view of the World Trade Center nearby," he continued. We can hear the heels advancing now.