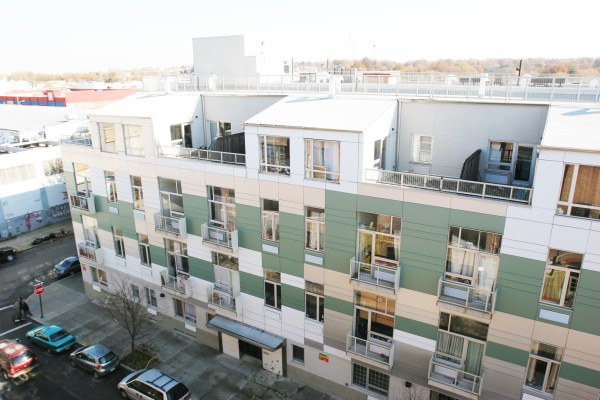 When friends visit Ryan Gross at his apartment, they often bring bathing suits, regardless of the temperature. With three roommates, Mr. Gross, a 25-year-old musician who works nights as a bar back at a Brooklyn concert hall, shares a sleek four-bedroom unit in a corner property known as the Lofts on Irving.
The building boasts an indoor pool and a rooftop hot tub, and Mr. Gross's apartment is outfitted with stainless steel appliances and an eastern-facing glass wall. The Lofts's 60 dwellings are floored with bleached oak, and each has a private balcony. Downstairs, within skipping distance of the pool, residents can retire at day's end to a sauna for a salutary schvitz.
Outside the building, the appointments are far less rarified. Built in 2009 in the eastern part of Bushwick, the Lofts building rises incongruously among auto body shops, asphalt lots and the garishly vandalized hulks of beleaguered manufacturing facilities. Nearby streets sport rusted chain link and sagging razor wire by the acre, suggesting a penal colony gone to seed.
Historically, the neighborhood has been zoned largely for industrial use, and in its northern portion, the walls of factories and garages stretch whole blocks, pressing close on sidewalks so that pedestrians feel a kind of menacing claustrophobia.
Breezes blow plastic bags over pavement, and broken glass winks in the gutters. Further south, on Wilson, one can exchange gold for cash and find charred buildings, yet unrepaired from the rioting that accompanied the blackout of 1977. One can buy live poultry, but one cannot pick up a prescription.
The Lofts on Irving seem to have been placed, like bananas into a bowl of unripe fruit, with the hope that their effluvium might hasten the sweetening of neighbors. As a development tactic, the ploy has seen slow, but lately accelerating, progress. For the Lofts's tenants, it has been something of a strange trip.
In 2010, George Agathos, a 26-year-old web programmer with short, dark hair and a persistent stubble, moved into an apartment nearly identical to Mr. Gross's. Through Craiglist, he had found a listing for the unit, and the five strangers who answered the ad were mostly in their 20s. (One roommate, an actor, claimed at first to be 28 but admitted later that, in point of fact, he was 45.) "There was a lot of excitement at that time," Mr. Agathos, a Long Island native, told The Observer. "Everyone was really excited to be able to move into this fancy place, with all these amenities and terraces. You tell someone that you live in a building with a pool in the basement, and it's sort of shocking and interesting."
The building's landlord, Carnegie Management, credited Mr. Agathos and his roommates one rent payment, and the apartment's cheapest bedroom cost less than $600 per month.
As one of the Lofts on Irving's earliest tenants, Mr. Agathos watched the building's ecosystem develop: Few families arrived, and those that did left before long. Recent college graduates with entry-level professional jobs in Manhattan represented the norm. Students, artists and fledgling entrepreneurs rounded out the mix.
Many renters, he said, had limited familiarity with the city but possessed an image—drawn perhaps from television and film—of what life there ought to look like: "I think the luxury of the building kind of counteracted the extent to which it was off on its own, especially for people who were looking for a city experience that weren't necessarily from the city."
Over three-and-a-half years, Mr. Agathos estimated that he went through 10 to 15 roommates, a pattern not uncommon in the building. Some stayed only one or two months. One sublettor checked into Foursquare during his first night in residency, in December 2012. The building's top comment read: "If you want to live in a dorm in the middle of the ghetto, this is the place for you!" Though she did not find the neighborhood threatening—and, indeed, crime in Bushwick has fallen nearly 73 percent since 1990—Amelia Stein, who for a year shared Mr. Gross's apartment, was struck by the way the Lofts stood starkly alone, "kind of like a safe haven."
"Because of our location, we became something of an island," Mr. Agathos said. "There would be weeks of isolation when the L train wasn't running properly. To get to a decent bar, you'd have to walk three or four subway stops. A lot of times, it just became more convenient and cheaper to stay home." (The neighborhood relies on the Halsey Street and Wilson Avenue L stations, nine and 10 stops, respectively, from the Williamsburg hub at Bedford Avenue.)
Rather than make the half-mile round-trip required to get to the nearest supermarket, many prefer to shop at the Trader Joe's in Union Square, a short walk from the L train. Or they order in, descending in a marijuana-scented elevator car to meet deliverymen.
Mr. Agathos once saw 21 people crammed simultaneously into the hot tub, a typical scene, which for him recalled Jersey Shore. He could find the Lofts's culture tiresome; on moving in at 23, he felt already that he was too old for the place. Summer evenings can see hundreds of revelers flock to the roof, while colder weather draws beer-fueled gatherings around the television and billiard table in the first-floor lounge.
"It's basically like being at a bar," Mr. Gross said, a little defensively. Ms. Stein met her current boyfriend in the hot tub, and for a time, Mr. Agathos, too, dated another tenant. The developers seemed to anticipate an insular culture: Early announcements trumpeted a self-contained digital social network and an in-house café—neither has materialized—and promised Verizon FiOS service. Carnegie diligently threaded the building with Ethernet cable. Verizon, however, hasn't bothered so far to deploy FiOS to the area.
Some residents, perhaps unlucky in love, became rambunctious. At night, Mr. Agathos could hear them just above his head, running and jumping on the roof deck. A few took to leaping off the enclosure that houses the elevator. Several generations of rooftop patio furniture were battered and destroyed before Carnegie settled on the current fleet, which, Mr. Agathos speculated, is "totally indestructible." With tenants of the building across the road, at 345 Eldert Street—an older, redbrick conversion, largely containing live-in artist studios—a protracted water balloon war was initiated, involving the capture by Lofts residents of a giant Jolly Roger flag, which the other complex had been flying as a standard.
Put off by what he considers aggressive increases, Mr. Agathos moved out of the Lofts in October; his former apartment was recently listed for $3,599 per month. MNS, a residential and investment brokerage, reported that Bushwick rents have risen 15 percent in the last year. (David Behin, who is president of investment sales at MNS, has likened Bushwick to "Williamsburg on crack.")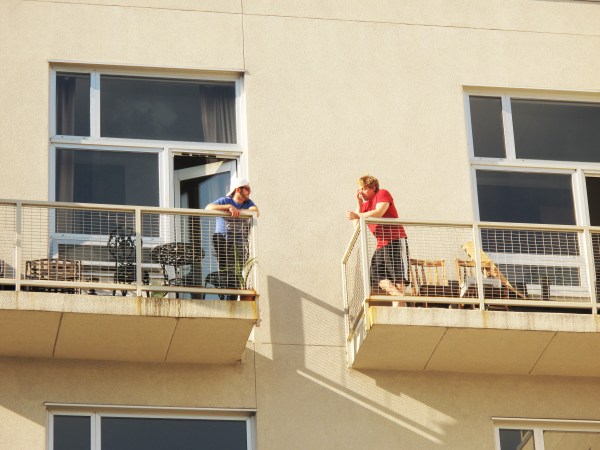 It is said in the vicinity of the Halsey Street L station that the Lofts on Irving resembles a cruise liner and 345 Eldert a pirate ship. Both monikers suggest inhabitants somehow in need of protection—adrift in environs dark and unknown. This they share with the Mynt, a luxury building in Bedford-Stuyvesant profiled in a 2008 New York Times story that called it a "yuppie spaceship," quoting neighbors. Back then, the price of a one-bedroom unit in the Mynt, $1,900, was cheap compared to Manhattan or Williamsburg but considerably steeper than the neighborhood standard. Today, that figure is slightly below average.
There is something both absurd and impolitic in identifying as "frontier" neighborhoods like East Bushwick—whose history dates to early Dutch settlement and which has been densely inhabited long since, largely by working-class black and Hispanic families—but it has become standard.
In Michael Armikhanian's estimation, the Lofts's residents are "pioneers." Mr. Armikhanian is a sales director at Massey Knakal, a real estate company managing the sale of six contiguous lots, totaling 82,000 square feet, used until recently by the Weirfield Coal Company. Cleared for residential construction and within easy walking distance of the Halsey Street L stop, the assemblage, Mr. Armikhanian said, will have a "catalyzing" effect on the neighborhood. "There's no Northeast Kingdom there yet," he said, referring to an early up-market restaurant in what is now "prime Bushwick," nearer to Williamsburg and Manhattan, "but there will be."
Today, East Bushwick is a district beset with particle-board construction fencing, papered with permits: refurbishments, demolitions, conversions, combinations. Outside Jefferson Hardware Plus $.99, Mohammed Zindani, a 29-year-old Yemeni immigrant who has lived in the neighborhood for six years and who shares ownership of the store with his family, recently placed a sign: "We have plywood and sheetrock."
The store did not used to carry these items, he told us. "There are a lot of new landlords," he said. "A lot. They buy the building, kick everybody out, make nice, raise prices. I feel bad for the people, some of them. But it's not the end of the world. You can always find a place to live."
*****
Ryan Gross grew up in a small town outside Portland, Maine. Tall and lanky, with blue eyes and bushy, brown hair, he has the wide trusting smile and slight tendency toward sanctimony that one often finds in Habitat for Humanity volunteers and AmeriCorps workers. Before moving to the Lofts on Irving, Mr. Gross lived with his sister and another roommate, even further east along the L train, off the Bushwick-Aberdeen stop, in a rundown, first-floor apartment. He did not feel comfortable there.
One fall evening, as he walked to a bodega for a sandwich, a topless prostitute approached, making him an offer he refused. On another occasion, his roommate witnessed the robbery of a bodega. Seeing the crime, an MTA bus driver pounced on the bandit. "Hell no!" the man said. "Not in my neighborhood." Outside of Mr. Gross's bedroom window, his neighbors sat in lawn chairs, talking, drinking and smoking late into the night.
"I wanted to be around like-minded people. That was the reason I wanted to move here," Mr. Gross said of his current building. "I had lived above a butcher shop with tons of Polish ladies. And I had lived deeper in Bushwick, surrounded by Hispanic families. People here want to know their neighbors. They're able to feel like they're part of a community in an area that maybe doesn't quite have the infrastructure for that."
Not long ago, Mr. Gross received a voicemail asking him whether he would assist in a legal proceeding. Some months beforehand, he had seen a group of teenagers milling suspiciously around the bike rack in his building's garage. He approached and snatched a bolt cutter from where they'd stowed it when they saw him coming.
The boys were young—perhaps 14 or 15 —but they outnumbered Mr. Gross. When they circled, in truce, he returned the bolt cutter. Seeing nothing auspicious on the horizon, the group fled. Mr. Gross had decided to ignore the voicemail. Along the sloped white wall over which the teenagers had leapt, razor wire had been unspooled. Best for his relationship with the community, he had calculated, was not to get involved.