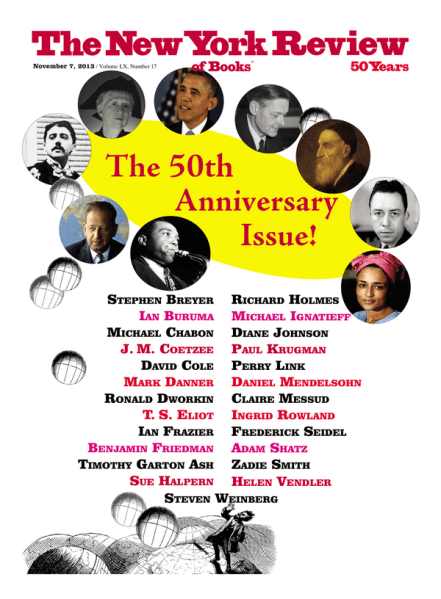 The fun never ends at The New York Review of Books.
The literary bimonthly magazine turned 50 in February and has managed the admirable (if self-congratulatory) feat of stretching the celebration out for almost a full year.
The festivities began in February—exactly half a century after the journal printed its first issue during the great newspaper strike of '63—with a quiet party at the Review's offices, quickly followed by an all-star reading at Town Hall.
Editor and co-founder Robert B. Silvers recounted the publications beginning. A frail Joan Didion, using a magnifying glass, read her 1991 essay on the Central Park Jogger case. Darryl Pinckney read a piece about James Baldwin, The Review and accepting his homosexuality. A film crew recorded (Martin Scorsese is making an HBO documentary about the Review).
The evening, like an article in the magazine that it was celebrating, ran long. By the time Michael Chabon spoke, some weary audience members had already fled. When the authors filed back onto the stage after the readings, it turned out there were no Qs to A.
In April, the New York Public Library hosted a conversation, in honor of the 50th anniversary, exploring "the Future of Literary Journalism" with Ian Buruma, Andrew Delbanco, Alma Guillermoprieto and Zoë Heller, moderated by Mr. Silvers and former New York Times  Executive Editor Joseph Lelyveld.
If NYRB readers found themselves in Oxford in June, they could have wandered into a free two-day conference at All Souls College on "Philosophy as a Humanist Discipline."
October brought Review-sponsored lectures on television, the Internet and privacy.
And last week, The Review topped off the Golden Jubilee with a party worthy of Edith Wharton and Henry James at The Frick.
The Garden Court was crowded as Mr. Silvers recounted the by-now-familiar origin story. Renata Adler's long, white braid matched the marble statues. British literary power couple Zadie Smith and Nick Laird chatted with other contributors. We spotted New York Times Book Review Editor Pamela Paul and heard an (unconfirmed) rumor that Ms. Didion had made an appearance.
Although writers speculated about the financial future of The Review (as they are wont to do after a few glasses of Gavi), it seemed pretty secure.
As we left, we were handed the facsimile of the first edition. It looked familiar. We first got one last winter.