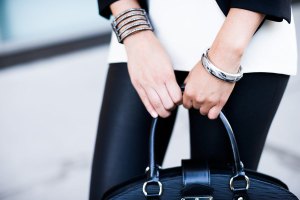 Here is an example of a product that should have been on Oprah's Favorite Things 2013 list instead of, say, a fugly wristwatch that describes your emails.
It's called the MEMI, and it's a "chic iPhone-compatible smartbracelet that discreetly vibrates when you receive important phone calls, text messages and calendar alerts," the gadget's website says. 
Using Bluetooth technology and a MEMI app, you can designate whose calls and texts are worthy of your attention. That's right, you can turn off that endless stream of group chat messages while still being notified if your mom calls–all while keeping your phone in your purse and off the table at brunch.
MEMI's website insists it's the first piece of wearable tech for women and by women, because clearly its founders haven't heard of the USB cords the CFDA and eBay fashioned into crude jewelry last week. Still, MEMI is probably the first wearable tech for and by women that your eight-year-old niece couldn't have made in 10 minutes at summer camp.
The device is clearly a dream come true for people who find themselves thinking, "I'd love to disconnect, but not really." It's only available for pre-order at the moment. Better claim yours quick, because we're sure Oprah will catch wind of it by next Christmas and her legions of book club members will wipe MEMI's inventory clean.
(h/t PSFK)