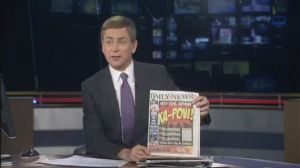 The Empire Mistake Building. The Statue of Lunacy. Crimes Square.
Now that Time Warner Cable has renamed NY1 after its own appalling self, what other New York landmarks could we rebrand and ruin?
TWC confirmed yesterday that from December 16, its beloved local news station would be known as "Time Warner Cable News NY1."
In recognition of the outcry this plan provoked when it was first announced, the "NY1" name was tacked back onto the end of this ungainly portmanteau.
TWC seems to think this will help. But it just demonstrates the cable, internet and phone provider fails to grasp how toxic its own name has become.
I am a NY1 superfan, devoted to the point of obsession.
Ask me about Cheryl Wills' wigs—I have strong opinions. My morning routine revolves around "In the Papers" at 7.42 a.m., and some weeks, NY1 accounts for as much as 90% of my total TV viewing.
At NY1's twentieth anniversary celebration last year, TWC CEO Glenn Britt happily acknowledged it is a major draw for attracting customers. The explanation for rebranding is to let subscribers who are thinking about leaving the service know they will also be losing their cherished news station.
Britt is right to be proud.
NY1 is a great news organization. Its reports are smart and crisp. The on-air talent, exemplified by the wildly popular morning anchor Pat Kiernan, deftly balance humanity, humor, intelligence and authority. In my opinion, NY1 is the best local news station in the world.
Contrast it with Time Warner Cable, its ham-fisted parent.
TWC is already synonymous in New York with woeful customer service. And the boorish cable giant has only just finished punishing its customers in its dispute over retransmission fees, during which CBS and its premium channel Showtime were blacked out for a month.
There has also been a discernible ethical creep as TWC uses NY1 to promote its interests.
For a news outlet to retain its integrity, it has to be protected from the business agenda of its owner. But TWC seems intent on sacrificing NY1's hard-won reputation for short-sighted sales and marketing goals.
For example, NY1 has run comically promotional "news stories" on Victor Cruz since the Giants wide receiver signed on as a paid TWC spokesman. He sells their new "TWC Sports Pass" add-on, available for just an extra $8.99 a month.
"Giants Fans Dance With Joy At Victor Cruz's Renewed Contract," "Giants Star Victor Cruz Promotes His New Memoir" and "Giants Fans Show Support For Victor Cruz" are just some recent examples of NY1.com's "journalism" on the player.
Last year, NY1 rebranded its weekend film discussion show from the open-ended "Talking Pictures" to "Talking Pictures On Demand." The new format limits its panel of critics to only discussing films TWC is renting to subscribers through its On Demand platform—for an additional charge, of course.
And NY1 increasingly features "news" segments about TWC promotions—such as its lounge at this year's US Open—that are of no public interest, beyond being an advertisement for its parent.
"When you have a big event in New York City, it's nice to have our customers come and be appreciated," a TWC rep cheerfully told the camera at the time.
If you are a TWC subscriber, you might also be used to receiving letters or email from the company headed, "We are pleased to extend you additional savings." This means your bill is going up.
I have received two of those since July, communicating a combined increase of around 20%. Their explanation for each hike is that their real rate is higher, but I'm getting a discount for being a great customer.
It is transparent baloney. And every time they insult me by messaging a double-digit price increase as "additional savings," I feel the hot force of their contempt for me as a customer.
NY1 is a great news channel. I love everything from its sharp political reporting to its great Broadway show, and yes, even the weather.
But as Time Warner Cable News NY1, it is declining into becoming a shabby advertisement for TWC products in both name and content.
Not even Cheryl Wills' special-occasion asymmetrical swoosh-wig will to be able to save it then.