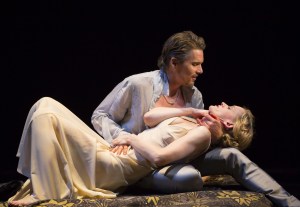 Strolling up The Avenue one day with Peter O'Toole, I casually inquired about the Macbeth he did in London. The man's face turned ashen at the very mention of the name, and, without a word, he charged up Fifth Avenue like a maniac, stopping in the middle of the block in front of a potted shrubbery. Once he broke off a twig from the shrubbery, the color came back to his face, and he could converse again. "We call it The Scottish Play," he informed me with steel-plated politeness.
Things, you may have gathered, did not go well with Mr. O'Toole's Macbeth. It was a classically wrong-headed version still talked of in theater circles in hushed snickers, but what Mr. O'Toole was reacting to was a favorite theater superstition: the Macbeth curse and the oddball misfortunes that seem to befall its performers.
When Christopher Plummer was playing the character on Broadway, a spear-carrier collided with him in the darkness backstage, chipping his front tooth. He continued the show, and all went well, except for a slight whistle with words starting with "F." 
Even Jonny Orsini, who made his Broadway debut last year and is playing Malcolm in the Macbeth that opens Nov. 21 at the Vivian Beaumont, knows not to mess with the Macbeth curse. "I believe in it to the degree that, during The Nance, someone backstage as a joke said it, and at that show the fire alarm went off," recalled Mr. Orsini. "All kinds of wonky things happened that very night. That's not even superstition. That's science. It's proven. It really did happen that night on that particular show."
One of the occult oddities emerging from the boil-and-bubble of this new production is a late Middle Age mandala called the Seal of God's Truth, which served as inspiration for its set design and poster artwork and forms a pattern on the floor of the set.
The very inventive Scott Pask, whose sets for The Coast of Utopia and The Book of Mormon won Tony Awards, suggested incorporating the mandala into this black arts-driven Macbeth, and director Jack O'Brien embraced the idea. 
"That was sort of a serendipitous gift to me," Mr. O'Brien beamed. "The original design is the work of Dr. John Dee, who was a contemporary of Shakespeare and a member of the court of Elizabeth I. He was an astrologer, an astronomer, a scientist, a mathematician and crazy as a loon. He had the second greatest library in London after Elizabeth. Shakespeare knew him and knew that library. There are many who say he was Shakespeare's inspiration for Prospero and Lear. He created the Seal of God's Truth by communicating with the angels through Edward Kelly, the go-to medium of the day. He put Latin in it, because his assistant didn't speak Latin, and he didn't want him to know what he was doing." 
Mr. O'Brien calls this his "fourth time at the rodeo" and gladly itemizes his earlier Macbeths: "one for Ellis Raab, one of myself and part of Two Shakespearean Actors. I'm doing this one almost like a meditation on addiction—a kind of Jungian nightmare—because its poetry taps all of us. It's kind of the original prototype for Breaking Bad, if you want to look at it that way—a good man gone bad who just keeps going."
Given that contemporary swirl, it's not hard to fathom Ethan Hawke's easy slide into the title role. Another soldier from Mr. O'Brien's Coast of Utopia, he's one actor who never pursued the part. "Macbeth I always found terribly intimidating," Mr. Hawke confessed. "It's like an extremely black T.S. Eliot poem. There's something terrifying about it, but in recent years I saw Orson Welles's old film version of it, and it got me intrigued about it again. Then, Richard Easton"—this production's short-lived King Duncan and a former, quite formidable Macbeth opposite Sada Thompson—"actually told me that I would be good casting for it, and so I started thinking about it."
When the offer came, Mr. Hawke immediately phoned Mr. O'Brien for some sage Scottish counseling. Three hours later, when he finally hung up the phone, he had made his decision: "I realized that I only want to do that play with Jack. He has such a strong, powerful feeling for the play and what it means and what it's all about.
"Here's the thing that's hard about Shakespeare: A lot of people think of it as school. They think you're supposed to get a very serious look on your face and you're supposed to get out your pencils. Jack just throws this love in it. He sees the wit in it and the sex and the violence. You hear stories about actors being tortured playing Macbeth, but one of the first things he said to me was 'This better be one of the best times of your life, because there's nothing more fun than going to the dark side.'"
Mr. Hawke is all too aware he has been surrounded by a Grade-A cast. "I don't think anybody's ever played this part with the kind of support I have. Given the support I have—from the design standpoint and Jack as dramaturge—Elmer Fudd could do it."
His previous big brush with the Bard was as a film Hamlet. "One of the things that really excited me about that film was that I felt like it wasn't a production of Hamlet in service of my performance. A lot of times, if you see Welles's Macbeth or Olivier's Hamlet, you feel the whole production is about them. I enjoy being a part of something larger than that—like, what is this production going to say about the play? If you spend half an hour with Jack talking about this play, you'll know."
Making her Broadway debut the hard way—as Lady Macbeth—and coming 3,500 miles to do it is England's Anne-Marie Duff, who spent the earlier part of this year being married to a Macbeth (Atonement's James McAvoy, who snagged an Olivier nomination for it in the spring). The offer was made to join him on stage, but she opted not to, knowing full well that she was pretty much kissing the part good-bye. 
"If I do Lady Macbeth at home, that's all anyone would talk about—the fact that we both did that play," she said.
But Lady Macbeth has been on her "secret to-do list" for years. "I wouldn't say I have a particular take on the role. I do know that we are very much concentrating on the fact—if you're just going to talk about the dynamic between husband and wife—that they absolutely love the bones of each other, that they are desperately in love with each other, and that's a great base camp. If you begin from that point, it's less cynical. It means all the decisions that we make and all the permutations are more swollen. You just care more about those characters, and I think that's a good place to start."
In addition to Mr. Easton and Mr. Orsini, the cast includes Daniel Sunjata as Macduff, Bianca Amato as Lady Macduff, a Bard-bowing Brian d'Arcy James as Banquo and—a sure sign the alchemy is working—Malcolm Gets, John Glover and Byron Jennings as the three witches. 
As for that mandala, it is, by Mr. O'Brien's reckoning, "fabulously beautiful," but it also operates as a talisman of sorts for the Macbeth curse. "As a conversation with angels—in an abstract, mythic picture—it's also a kind of prayer to keep my company safe," the director said. "I don't feel this superstition thing about the play, but I respect it. I wanted to take care of them, so I gave them a prayer to stand on."