This past weekend in Mexico City, 46-year-old Eugenio López Alonso, sole heir to the Jumex juice empire, inaugurated Museo Jumex, a 43,000-square-foot David Chipperfield-designed private museum for his foundation's collection of 2,000-plus contemporary artworks. An elegant three-story layer cake made of light-brown travertine, it's located in the tony Polanco district, near a Saks Fifth Avenue, a Crate & Barrel and rising skyscrapers. Next door is another private museum, the Museo Soumaya, a garish, windowless building that the world's richest man, telecommunications titan Carlos Slim, built in 2011 to house his own art holdings, which are astoundingly mediocre.
For today's top-flight art buyers, it's no longer enough to assemble a choice collection, stocked with acquisitions from the global art circuit. As in the last Gilded Age, it's landmark buildings that matter, and so private museums are proliferating. But that is no reason to be cynical about Museo Jumex. Mexico City, with a population of 8.8 million, has long been talked about as a potential art hub—the next Berlin or at least the next Brussels. Living is cheap, space is abundant, but the art ecosystem is, as yet, small. Mr. López's museum may change that.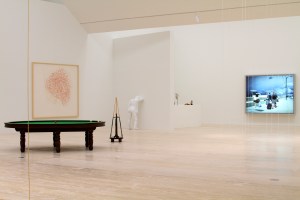 "It's an investment; it's a gift to the city that is quite extraordinary," Mr. Chipperfield, the architect, told reporters on Saturday morning on his building's airy top floor. (Unlike Soumaya, which is free, admission at Museo Jumex is 30 pesos, about $2.30, the price of a plate of tacos.)
Some 700 international guests had flown in for the weekend, including what felt like most of Chelsea, not surprising since those dealers have spent two decades selling Mr. López work, some of which was assembled in the museum's inaugural exhibition, curated by Colección Jumex's director, Patrick Charpenel. Collectors were there too—Dakis Joannou, who has his building in Athens, and Eli Broad, who is nearing completion of his in Los Angeles, Mr. López's second home.
"All of the works that were selected deal in some ways with the idea of collapse," Mr. Charpenel explained. That was vague enough to encompass strong examples off the billionaire checklist: a brushy Richard Prince joke painting, a Warhol Jackie, a Jeff Koons basketball-fish tank, an early Damien Hirst cow head-in-formaldehyde. Mr. Charpenel hammed it up for photographers, grabbing a pool cue and taking a shot at Gabriel Orozco's pocket-less oval-shaped billiards table, just the sort of major Latin American work that is well represented in the collection but in short supply in the show. "It feels very safe," as one dealer put it to me charitably.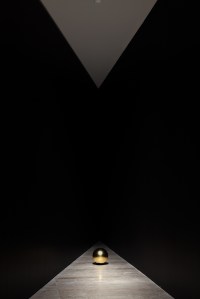 Far better was a rich survey of the mystical trickster James Lee Byars (1932–97), organized by Magalí Arriola, Museo Jumex's chief curator, and Peter Eleey, the director of exhibitions at MoMA PS1, which will host the exhibition next year. There were letters Byars sent to his longtime champion at MoMA, "Sweet Dorothy Miller," plus telegrams to Nixon, Mao and others, inviting them to Documenta V in 1972, and a handful of major works, including a violently red room with a throne.
But the best stuff was in the subterranean parking garage, where Patricia Marshall, an early adviser to Mr. López, had installed major works by Mike Kelley, Jason Rhoades, Paul McCarthy, Rosemarie Trockel and others.
Elsewhere in Mexico City, galleries, hoping to capitalize on the Jumex buzz, had timed major shows to coincide with the museum's opening. On Friday afternoon, Hans Ulrich Obrist, co-director of London's Serpentine Gallery, could be found bounding into Kurimanzutto, the city's most prominent gallery, which was hosting shows by Marieta Chirulescu and Gabriel Sierra, plus a group show in a handsome, rundown house around the corner. "Everything today seems to be linked to everything; it's amazing," Mr. Obrist told his tour group. "It's almost like a chain reaction!"
For a moment, Kurimanzutto became a kind of international crossroads, filled with artists, museum officials and onetime Los Angeles Museum of Contemporary Art chief curator and now L.A. art dealer Paul Schimmel, who departed just as his rumored new hometown competitor, Monika Sprüth—the Berlin and London gallerist said to be planning a branch of Sprüth Magers in L.A.—arrived.
That evening, you could find plenty of the same people at the Salinger bar, where the gallery Proyectos Monclova was toasting the launch of Artists' Cocktails, a new book by British artist Ryan Gander. The book is "like a Boy Scout handbook," I was informed, except with drink recipes, some not quite potable. (Jeremy Deller's is a Molotov; others are delicious.) Critic and curator Chris Sharp was on hand, a relatively recent arrival to Mexico City, from Paris. He was attracted by the ease of living and now runs a tiny project space out of his apartment in Roma with the artist Martin Soto Climent called Lulu. They're currently showing a huge bouquet of 10 white-flower varieties by Dutch artist Willem de Rooij, a monochrome by other means that requires fresh flowers every two or three days. "It's an expensive piece to maintain, but it would be a lot more expensive in the United States or Europe," Mr. Sharp deadpanned. (Speaking of links, he's organizing a two-venue show at L.E.S. neighbors Lisa Cooley and Laurel Gitlen in January.)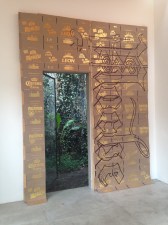 Mr. Sharp, who is 39 and was once based in New York, is not the only person with American ties finding fertile ground in the city. In a palatial penthouse apartment in dilapidated, burgeoning San Rafael, you can find Andrew Birk, 28, and Débora Delmar, 27, who met at a party in Bushwick. He's from Oregon; she's from Mexico City. They moved to the city in 2011 and have recently been organizing venturesome group shows in their home, which they've dubbed NO Space.
"Our peers make work that doesn't fit into what's happening commercially, at the five galleries or whatever," Mr. Birk told me. "We're trying to push our friends who are also young Mexican artists who don't have a platform to show them that they can do whatever they want inside of their space. With good photography and the Internet, they can have a platform."
"We found out that it doesn't really matter if you're not in New York," Ms. Delmar added.
The scene here is small and in flux. People tend to come for a year or two and then leave. But there are signs of growth. Mexico City's homegrown contemporary art fair, Zona Maco, has moved to February, escaping April competition from fairs in Cologne and Brussels, and Daniela Elbahara, a Monterrey-born artist, and Brett W. Schultz, of Chicago, who met in school in the U.S. and opened the Yautepec gallery six years ago, are launching a concurrent fair called Material focused on emerging art.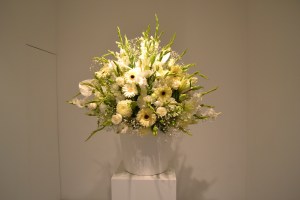 How Mr. López's museum will affect all of this remains to be seen. In the meantime, there were his parties, for which he has something of a reputation. Throughout the weekend people talked fondly of the never-ending bash he hosted for the opening of his first space in 2001, at a juice factory far from the city center. Its decorations included sealed containers with poisonous creatures. (This time all 1,000 guests received a new Urs Fischer multiple.) His first blowout for the new museum was a dinner on Friday night at Museo Casa de la Bola, a grand hacienda that is perhaps most famous locally for a Damien Hirst after-party in 2006 that featured lucha libre wrestling. The dramatically lit rooms and outdoor gardens overflowed with dealers and auction house specialists, collectors and museum people, and the odd celebrity (Eva Longoria, Will Ferrell).
The next day was the opening, plus another party, which took place at a racetrack on the outskirts of town, not far from where two knife-wielding young men relieved me of my camera and passport on my last trip to Mexico City. Soldiers greeted guests, who made their way underneath crisscrossing spotlights and into the party space. An orchestra, in top hats and Día de Muertos makeup, played Mexican national songs. Gold-flecked stairs (James Lee Byars meets the Aztecs?) stretched from the dance floor on each side up to the ceiling. There were scores of sofas paired with tables stacked with bottles of liquor and Jumex juice. The consensus among the revelers was that the new building is small but superb—"It's already the most important museum south of the Rio Grande," critic Christian Viveros-Fauné ventured—and that the opening show is a bore.
At a certain point, late at that second party, an arsenal of lights started shooting from every side, the orchestra left, and DJ Mark Ronson took over. People flooded the dance floor, and a wearable Byars piece—pink hats connected by fabric—circulated through the crowd. "If they opened this museum in London, it would be fucking stupid," one young Mexican artist screamed into my ear, "but for Mexico, it's a great thing."
By 1 a.m. even Mr. Chipperfield had found the dance floor, smiling bemusedly as a sample from Miami rapper Uncle Luke blared: "Don't stop, pop that, don't stop/Pop that, pop that, pop that." No one seemed to be leaving anytime soon.