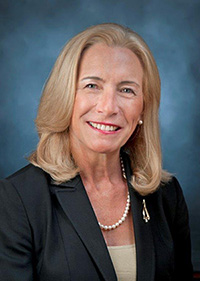 TRENTON – From her vantage point – the president's office at New Jersey City University, just across the river from Manhattan – tuition inequality means the Garden State is losing students, income and opportunity.
University President Sue Henderson has testified before the Legislature previously about this issue, which once again will be before a committee this week.
"We have in Jersey City a particularly large number of undocumented students who sometimes end up going across the river to New York City,'' Henderson said. "We are eager to keep them here; they are more likely to stay here and work."
Tuition equality – a Democratic initiative that has drawn support from the Republican governor who has possible presidential considerations looming – will be in the Senate Budget Committee this week as the lame-duck session continues.
The bill would permit a student who lacks legal immigration status to pay the lower, in-state public college tuition rate. The difference can be substantial.
According to Henderson, in-state costs – tuition plus fees – can be about $10,200 a year, while the out-of-state cost can be about $18,000.
Students who are barred from benefiting from the lower in-state tuition here can attend schools in other states, where because of price structures, it can be much cheaper.
S2479Sca/A3509 already has cleared the Senate Higher Education Committee, but has yet to move in the Assembly. Gov. Chris Christie, shortly before the election, publicly declared his support for the concept.
The issue could have implications for the governor with possible White House aspirations who drew a great deal of Latino endorsements during his gubernatorial re-election bid.
In fact, Christie was at Henderson's institution two weeks ago for the statewide Hispanic Chamber of Commerce annual convention and Henderson thanked him for his backing of the initiative.
Under this bill, the student must have graduated from a New Jersey high school or at least gone to a New Jersey high school for three years.
The bill has been amended to clarify that it would also apply to student financial aid programs administered by the Secretary of Higher Education, such as the Educational Opportunity Fund.
Also, it was amended to address a concern regarding Homeland Security's deferred action on possible removals of students who arrived here as children. The bill now says that students would not have to submit a request to Immigration regarding this.
Christie said to the Latino Leadership Alliance of New Jersey last month that he supported the concept as an "obligation'' to save children from failed educations.
The signal of backing was important, because earlier in the year, the bill encountered strong GOP skepticism during committee hearings.
The supporters champion it as a matter of educational fairness and economic opportunity. Opponents claim it is a matter of unfairness to N.J. resident students who already have to fight to gain entry to four-year schools that have limited capacity.
Henderson testified during the summer that 88,000 N.J. students who are not citizens will be affected. The in-state rate is $7,500 while the out-of-state tuition rate is $15,000, she said, and she added that passing this bill will benefit the state by reducing incarceration rates, enhancing work forces and improving earnings potential for students.
She said that the university's feeder high schools have reported sizeable increases in the number of undocumented students, sometimes comprising 25 percent of the student body.
The benefit to society as a whole if this bill were to become law would be seen in increased tax revenue and a more competitive work force, she said.
Students who attend college out of state often tend to stay out of state when they get a job. She said N.J. colleges are missing out on bright students through a situation not of their choosing.