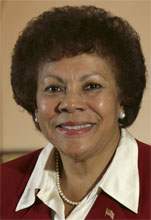 The mailer this week that linked Sen. Shirley Turner, (D-15), Trenton, to indicted Capital City Mayor Tony Mack has prompted a call for an investigation.
The mailer said that Turner backed Mack – now under indictment in a corruption case – for mayor.
But Turner, seeking re-election and battling GOP challenger Don Cox – who was not even mentioned on the mailer – got an assist Friday from former GOP Sen. Bill Schluter.
The two have called for the Election Law Enforcement Commission to investigate possible campaign finance violations, and they want to know who is responsible for the mailer, which is attributed to Choice for Change.
"The mailer is a reprehensible kind of attack, and the voters have a right to know its origin and who really sponsored it," said Schluter in a release calling for the ELEC investigation.
"The Republican State Committee and Republican leaders should join in the effort to ensure that we have clean elections in New Jersey."
Schluter, who served in both Assembly and Senate, also had been appointed to the state Ethics Commission by former Gov. Corzine. He also ran as an independent for governor in the race that saw Jim McGreevey elected.
Previous story: