"OMG @OneDirection's new song leaked!" might sound like something a giddy tween would tweet, but it was actually tweeted by the Daily News's official account.
Then there was this gem: "Teacher fired after taking teens for penis piercings. There's a picture of him going all: ¯\_(  )_/¯"
And this one too: "Is this _really_ why @TaylorSwift13 said STFU at the VMAs?"
Like, OMG! If that doesn't sound exactly how a 93-year-old newspaper ought to talk, the struggle to find a Twitter voice is not unique to @nydailynews.
Confronted with data that confirms what we all know—that Twitter's news junkies skew young—media organizations are trying to find a balance between playing to the youngs while not sounding juvenile.
They don't always succeed. Consider this tweet, from the lefty bible Mother Jones: "Cool new conservative meme: Obama is like such a terrible manager, amirite? Totes worst ever, probably."
Or, like, this one, also from @MotherJones: "Happy election day! Go vote! But, like, only once. Don't vote multiple times. You're not allowed to do that. "
Duh!
A report by Pew Research Center released earlier this week reveals that nearly half of U.S. adults who get news through Twitter are 18 to 29. The overall percentage of Americans who use Twitter as a news source is still relatively small—only 8 percent—but they skew younger than those who get news from Facebook.
Someone's got to keep them amused.
Although it's hard to find recent data on Twitter tone, according to Ellyn Angelotti, who teaches digital trends and social media at Poynter Institute, there is anecdotal evidence that suggests conversational, handwritten tweets are more effective than the alternative.
A 2011 study by SocialFlow found that, while people were likelier to click on "conversational, handcrafted tweets," they were more apt to retweet "auto-generated headline tweets." The Wall Street Journal's experience confirms that. After the @WSJ account became human in early 2010, "The metrics went up considerably and almost immediately after switching from automated to personal," Zach Seward, then the social media editor at The Journal, told Poynter.
"The nature of Twitter is that people want to have a conversation with other people," Ms. Angelotti told The Observer.
Since 2011, slang-laced tweets have become accepted practice, as news organizations embrace Twitter feeds that mirror the way a young person talks.
"You want the Twitter feed to sound as human as possible and sound like a reader, so we tweet the way that a reader would tweet," said Taylor Lorenz, the social media editor for The Daily Mail.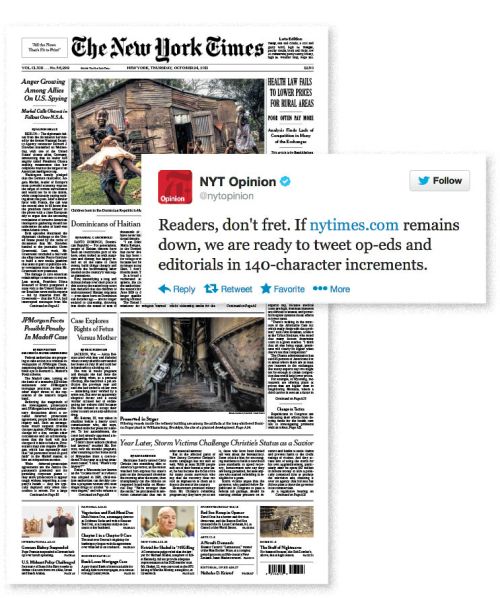 Twitterspeak wasn't always thus.
When the microblogging site launched in 2006, few knew quite how to use it. The concept gradually morphed from a way to stalk your friends into "a service for people to talk about what was going on around them, to share news and information," as Times tech reporter Nick Bilton recently wrote in an excerpt from his book on the origins of Twitter that ran in the magazine.
The New York Times's Twitter feed happened almost by accident. It was set up in 2007 by Jake Harris, a newsroom engineer who wanted to follow the Times on his cell phone, not as an official arm of the publication. Readers began following the feed, and Times management eventually took it over. "Without Health Benefits, a Good Life Turns Fragile" was @NYTimes first tweet, almost seven years ago.
Other publications automatically tweeted headlines, often stopping mid-sentence or even mid-word, followed by links to stories. "Gotti Trial Moved To New York: Round 1 of Game 4 goes to John Gotti Jr. A federal judge in Tampa, …" @NYPost first tweeted, five years ago.
"Thank Bernanke: More than Obama, more than Geithner, more than anyone, it is the once-maligned Federal Reserve c.." @NYMag tweeted as late as four years ago. (Publications, not generally known as early technological adopters, generally didn't jump on Twitter right away.)
Even Gawker, ever the "digital native," started by auto-tweeting headlines. "Rest of Media Shamed 'Times' Into Running McCain Story [New York Times] : The New Republic's stor…" the blog tweeted six years ago.
Perhaps unsurprisingly for a wire service, the Associated Press was the only news organization that seemed to get Twitter, pretty much out of the gate.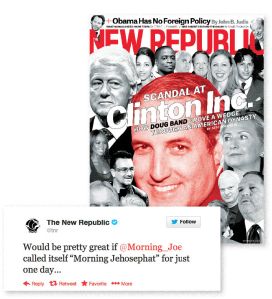 After first using the official account to gin up followers for topic-specific feeds (@APStyleBook for style standards, @AP_Images for photography, etc.), the official AP account quickly pivoted to cover breaking news. "Join AP as we track developments in Haiti and interact with you while providing fast, reliable coverage on the stricken island nation," @AP wrote in January 2010. "We're focusing on the earthquake now, but we plan to expand our Facebook and Twitter accounts to include other news stories and events," the news outlet followed up.
It took the Times nearly four years to catch up to the newswire. In May 2011, the paper of record began to experiment with handwriting tweets during business hours instead of mostly auto-tweeting headlines, as the feed had in the past.
Although the Times still tweets out headlines, the tone has continued to evolve to become more playful and human. "We've made some robots that can walk, some that can talk and some that can do "Gangnam Style," @NYTimes tweeted this past weekend. 
Like other official Twitter accounts, @NYTimes also retweets its reporters, editors and vertical  Twitter feeds and pulls out quotes from articles to tease the stories.  
Like the disproportionate number of kids who get their news from Twitter, the human voice behind the official Twitter feed is most often a twentysomething, or at least someone attempting to sound like one. The social media editor, once a job under the umbrella of the marketing department, has been given unprecedented latitude as the voice of the publication.
The Daily News's Twitter feed reflects the sensibility of its author, social media manager Brad Gerick, more than the tabloid itself. The 26-year-old Maryland native took over the News's Twitter feed almost five months ago after three-and-a-half years at Patch, AOL's hyperlocal project.
"A lot of the voice you're hearing is Brad's voice," Lauren Johnston, the News's digital editorial director, told The Observer.
"OK, who _hasn't_ eaten cereal while driving?" the News tweeted last week, with a link to a story about a video of a British driver eating cornflakes behind the wheel.
"LOL j/k, everyone," read another recent tweet from the News's feed, linking to an earlier News tweet about the odds for Philadelphia's long-shot basketball team.
"Twitter users as a whole have gotten a lot better," said Mr. Gerick, who explained that individual accounts and publications have evolved as social media users have gotten savvier at using the platform.
Similarly informal is The New Republic's Twitter feed. The magazine, relaunched in January with a fresh infusion of cash from Facebook co-founder Chris Hughes, isn't afraid of emoticons.
"We like what you did there 😉 (Seriously. We love book puns.)RT @HuffPostBooks: A brief interview with Junot Díaz http://huff.to/1aP0yP3," @TNR tweeted last week.
Earlier this year: "OMG! @HillaryClinton joined Twitter and DC can't stop gushing! on.tnr.com/1930bOw #EveryoneRelax."  
Such communiqués would have once been inconceivable from a 99-year-old magazine devoted to social and political commentary.
But someone will inevitably write the same thing 99 years from now. And as Twitter prepares to go public in the coming days, there is bound to be more news on the Twitter front. Or as a social media editor might write: IPOmigod!
— Additional reporting by Jordyn Taylor