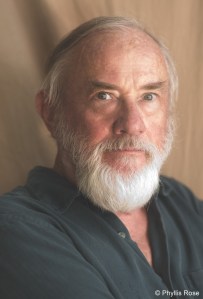 The novelist Robert Stone has lived long enough to be old. "I seem to have somehow, quietly and secretly and in spite of myself, become 76," he said recently in his Upper East Side apartment. "I don't know exactly how that happened. I have no explanation for it."
Mr. Stone never knew his father, and as a child he ran around between S.R.O. hotels in New York with his schizophrenic mother. He witnessed the air attack on Port Said and traveled to Antarctica as a teenage officer in the Navy, where part of his duties included putting out a small daily newspaper. He has been married to the same woman, Janice, for more than 50 years. He wrote hack journalism to support his family before the release of his first novel. He endured a brief stint in Vietnam in 1971, where he traveled as a reporter with the short-lived INK magazine (his press accreditation was always a hassle), during the country's so-called Vietnamization. He didn't see a lot of action but "found out more than I wanted to know" about the dope trade in Saigon. He was something of an honorary member of Ken Kesey's Merry Pranksters and was the only person Esquire could find who knew where Kesey was living after he left the U.S. to escape a possession charge (the magazine eventually killed the piece because it wasn't "neutral" enough). He saw through the production of his first two novels into Hollywood flops. He used to deep-sea dive, but his lungs are busted from emphysema. He has won a National Book Award and lost the Pulitzer Prize twice, one to John Updike, the other to Philip Roth, his better-known but less-consistent contemporaries. He has written two short-story collections, a memoir and eight novels, one of which, Death of the Black-Haired Girl, is being published this month. He wishes he had written more.
"I feel very guilty about how little work I've done," Mr. Stone said, a little ridiculously. He had a cold, which he said made him feel "toxic." He has a weathered face obscured by a bundle of white whiskers on his chin. He talked in a gravelly voice, propping himself up on a long couch, and he grew increasingly tired as our conversation went on, gradually sinking further into the furniture. "I feel like I owed more," he said, "like I could have done more and should have."
What to make of Robert Stone? It seems like every decade his work is rediscovered by readers out of necessity. He has placed five to 10 years in between novels—an eternity in book publishing. He's a best-selling author whose work has been heaped with critical praise, but because of the long interims between books, he is more heard of than read by a certain generation of readers. Updike had Rabbit, Roth had Zuckerman, Norman Mailer had Gary Gilmore, even Joan Didion, whose novels are the least-interesting thing about her, had Maria Wyeth. Among Mr. Stone's books there is no clear standout, no obvious introduction. His work is best taken in tandem, like one long narrative where you age with the characters. His back catalog is mostly  in print, though it has to be more or less tracked down.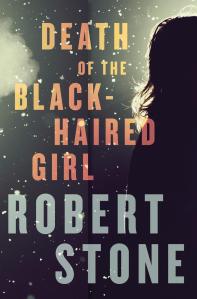 Death of the Black-Haired Girl, Mr. Stone's first novel since 2003, is a strange little book. The death alluded to in the title belongs to Maud Stack, who would be the story's protagonist if she weren't killed in the first third. Like many of Mr. Stone's characters, she's a hard drinker, but she's a brilliant student at a liberal arts college, having an affair with her married professor, Steven Brookman. She has published a scattershot but sensational article in the college newspaper about the anti-abortion protesters at the local hospital ("It's true that the Great Paperweight is also the Great Abortionist—a freeze-chilling twenty percent of the sparkly tykes he generates abort—but he don't like some girl doin' it.") that has sparked the ire of the college town, flanked by ghettos but seemingly sheltered within the pristine gloss of academe, which of course has an underbelly of its own. We know something bad will happen if only for the college's motto—"lux in umbras procedet" ("light moves in shadows")—and the way Mr. Stone bleeds light and shadow together even in his description of the campus geography:
Some might have thought that the two parts of the city—Maple Park the poor townie side and the college-Common area—didn't intersect, but they did. Heroin had found a niche on both banks of the Mill River, its glint detectable to the aware in such unlikely realms as ever and also conveyed a quality of anxious personal drama. Junkie chic had not disappeared and heroin still outsold cocaine.
Substance abuse, along with disillusionment with organized religion, is a sustained metaphor for his characters' festering moral corruption throughout all of Mr. Stone's works, especially his remarkable first three novels. In A Hall of Mirrors (1966), the barely functioning alcoholic Rheinhardt finds himself the de facto voice of a hate-filled generation as the disc jockey of a conservative radio station, WUSA, making him the half-hearted leader of a violent rebellion that ultimately leads to his destruction. In the National Book Award-winning Dog Soldiers (1974), a journalist named John Converse and his army commander friend, Ray Hicks (named after Mr. Stone's company commander in boot camp), smuggle three kilos of heroin out of Saigon to Converse's wife, Marge, in San Francisco, a deal that goes bad because of Marge's opiate stupor, ending in a fire fight in the desert of Southern California. In A Flag for Sunrise (1981), a Benzedrine addict turns up at the center of a banana republic revolution when he takes a job on a shrimp boat run by arms traffickers, whose role of supplying the coup with artillery ends in his demise.
Mr. Stone is a moral writer only sarcastically. Modern life corrupts a person's conscience, and there is punishment for this, but there is no lesson learned, no karmic retribution. Religion is a temporary fix like heroin. I think of his message as the literary equivalent of the final scene of John Huston's Treasure of the Sierra Madre (Mr. Stone's early fiction has the feel of a Hollywood epic): Once the banditos naively cut open the bags of gold belonging to Humphrey Bogart's Fred C. Dobbs character, believing them to be filled with sand, and the wind scatters his riches into nonexistence across the desert, all Dobbs's partners can do is laugh. There's a certain comedy in the worst thing imaginable finally happening. "It's funny" is a frequent dismissal of great traumas in Mr. Stone's writing. As Converse says at one point in Dog Soldiers, after his life has been threatened and his wife and child have gone missing: "I've been waiting my whole life to fuck up like this."
The utter lack of sentiment with which Mr. Stone talks about his past is as impressive as the stories themselves. I asked him about WUSA, the film adaptation of A Hall of Mirrors, which was a pet project for Paul Newman.
"Poor old Paul Newman, who was a really nice guy," Mr. Stone said, as if he were talking about a neighbor across the hall who had just passed on. Mr. Stone was on set during the making of WUSA and got to watch his novel be ripped apart. "From the first day, I thought, 'Holy Jesus Christ, this is truly awful,'" he deadpanned. "'You know, this is as awful as any movie I've ever seen. This is perhaps the worst movie that I've ever seen.'"
Ask Mr. Stone about the '60s, and he'll say things like, "I never could much get on with Kerouac" and "Kesey and a bunch of us bopped around Mexico in a sort of irresponsible way," leaving it at that. Neal Cassady, Kerouac's Dean Moriarty and the basis for Mr. Stone's own Hicks, "never stopped taking amphetamines. I swear he never ate anything."
But after his first three novels, Mr. Stone had sufficiently distanced himself from his previous role as a fledgling counterculture hero. If anything, he became something of a staunch realist with Children of Light (1986), perhaps the darkest novel ever written about Hollywood, and Outerbridge Reach (1992), an understated character study of triangulated desire. It was a move that likely lost him a number of baby boomers with their humorless refrain to "play your old stuff," but he continued in this vein with Damascus Gate (1998), an unabashedly entertaining political thriller set in Jerusalem, and Bay of Souls (2003), something of an extended monologue about romantic obsession.
In Death of the Black-Haired Girl, the dose of reality comes from Maud's father, Eddie, who is like a character from an early Stone novel that has grown old against his will, not unlike the author himself. He's a New York City cop who has been sober for years, but he keeps a bottle of Jameson in the attic as a daily test. That bottle starts Maud off on the bender that eventually kills her during a confrontation with her professor lover. Eddie's sobriety is as if in apology for all the debauchery that has gone on in Mr. Stone's writing, and when he relapses, it stings almost personally. After Maud's death, the novel shifts its focus to him and becomes increasingly chaotic as it incorporates an increasing number of fictional styles—a police procedural, the cautionary decline of an old drunkard, the paranoid rantings of an oversexed academic and a religious parable. The styles do not so much commingle as obliterate one another, until everyone involved in the story is destroyed, literally and figuratively. The book concerns a small community of people but is about, as Mr. Stone put it to me, "a kind of faint hysteria—the general incompetence and panic and a sense of hopelessness and general despair." Some things never change.
After the publication of A Flag for Sunrise, Mr. Stone told the Paris Review that it's easier to change one's race than to stop being Catholic. Catholicism was in the background of Mr. Stone's childhood, the doctrine of all those shelters, which his mother helped enforce.
"She was conning me," Mr. Stone said. "She pretended to be religious, but she wasn't. She was more interested in Jack Kerouac and On the Road than she was in religion." (She gave him his first copy of that book.)
Every novel by Mr. Stone has its lapsed Catholic, usually the result of seeing so much pain that it's impossible to believe there's a reason behind all that misery. Death of the Black-Haired Girl presents the repercussions of a cynic's refusal of religion at their most literal. A major plot point in the second half of the novel deals with Maud's father visiting a Catholic church on Long Island, the final resting place of his wife's ashes, and failing to obtain a proper Christian burial for his daughter, whose public dismissal of pro-lifers has, somewhat improbably, reached the greater New York area. It's a comparably humble goal taken alongside Mr. Stone's dope smugglers, revolutionaries, terrorists and dreamers, the failure of accomplishing it made even sadder by its smallness. I asked Mr. Stone if, in his older years, he has managed to mellow his religious defection.
"I felt very liberated when I made myself free of it," he said. He was, at this point, deeply reclined on his side on the couch. "But I never worked myself out of it completely. I don't believe in dogma, but I do have some suspicions about what may be prowling around the edges of existence that we don't exactly understand. It's just a few odd notions that persist."
"Such as?"
"I get tempted by fate," he said. "I used to be a scuba diver before I lost my capacity to breath. And one time I went down a mile in the Bahamas trench in this vehicle that looked like a combination between a helicopter and a shrimp. It reminded me of Job. You know, I've seen the springs of the universe? Because we went down a mile in the Bahamas trench, and there was just something about this that made me think: This is remarkable. It wasn't a sudden conversion to a doctrine of creation. But it was something. I don't know what. I don't know how to describe it exactly. If I tried to write it, I might be able to describe it."
mmiller@observer.com