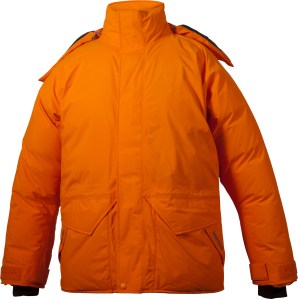 This coat gives new meaning to "blood orange."
Citing a rash of violent instances, Union Square's Paragon Sports has dropped the Marmot Mammoth "Biggie" jacket. The store had previously been the exclusive retailer of the $600-$700 jacket but has been rushing to get rid of its remaining stock, some at discounted prices as low as $200.
Three years ago, a high schooler wearing the jacket was killed when he was hit by a car while trying to escape a mugging in the Bronx. And in January of this year, a teenager was shot in the chest and killed on the Lower East Side for wearing the same jacket.
The Bryant Park ice rink shooting on Saturday that left one person injured and another possibly paralyzed is also attributed to the shooter coveting the victim's Biggie parka.
Marmot Mountain LLC, the manufacturer of the coat, discontinued production of the jacket last year for reasons unspecified. But in the wake of gruesome incidents since, it seems their prophetic decision was the right one.
Gang members reportedly view the expensive jacket as a status symbol. Aside from the standard orange, the "Biggie" also comes in several other bright colors, making it popular with the city's teens. Paragon Sports employees told the Post that they thought the coat's big pockets were appealing for buyers to stash guns and drugs in.
"They sold really well, but the company didn't want to be associated with that," one worker said. "We put the rest on sale to move them out. Paragon doesn't want to affiliate itself with an item that's going to cause violence."
As of yesterday, there was one left in stock. It was purple.