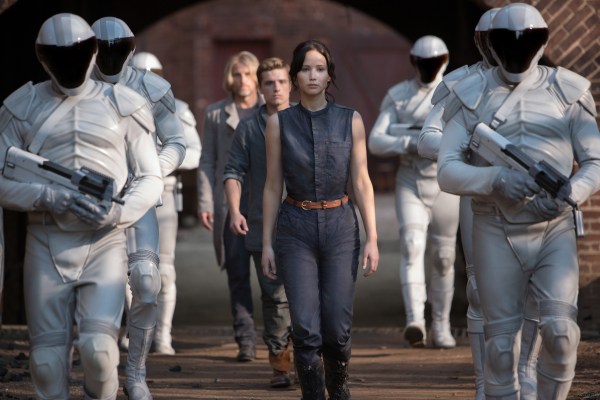 Excessive, over-produced, obscenely over-budgeted and utterly pointless, this second installment in the overrated trilogy of books by Suzanne Collins is nothing more than recycled ideas and stale CGI effects that seemed fresh and exciting the first time around the track but now hobble through the paces with the energy of a plow horse. As a wearer of distance glasses, I hate the revival of 3-D, a silly gimmick for kids from the 1950s that blighted everything from Bwana Devil to Kiss Me Kate then mercifully died out with House of Wax. So I was glad to watch the first Hunger Games without the discomfort of one pair of glasses worn over a second, and I didn't miss a thing. I can live without another flying spear. This time, I saw part two in IMAX, a format that is a great advancement over 3-D but did nothing to improve this movie.
I was surprised how much I enjoyed the original idea—a lethal combat in some distant world called Panem that was once America before the capitol was defeated in some unexplained, apocalyptic war. The wreckage was divided into 12 districts. Every year, each district sent one boy and one girl between the ages of 12 and 18, chosen by lottery, to compete in a nationally televised event called The Hunger Games. The purpose: a mass killing spree with only one survivor. The survivor was Jennifer Lawrence, who became a star. O.K., we got the message. Now we get the sequel, in which everything happens all over again. The 74th games are over, and the 16-year-old lovers from District 12—a pretty girl named Katniss (Ms. Lawrence) and an even prettier boy named Peeta (Josh Hutcherson)—are home but not for long. Dispatched on a "victory tour" to launch the 75th Hunger Games, they have no idea they are marked for death by the evil President Snow (Donald Sutherland) and his bloodthirsty game planner Plutarch Heavensbee (Philip Seymour Hoffman). For reasons that are never satisfactorily explained, it's every man for himself, with no winners. The rest of this interminable yawn drags everyone marching through hell, most of all the audience.
Here come the special effects. It rains blood. A poisonous fog rolls in, eating the flesh of anyone it touches. Man-eating monkeys chase the gladiators through the jungles. There are holograms and people bursting into flames. Of course, the indestructible Katniss survives it all and is guaranteed the rest of her life in peace. But the rules are broken every 10 minutes, and nobody knows what will happen next. (There's a third installment on the way.) If you didn't see the first movie, you won't understand anything that's going on. I saw it, and I still didn't understand it—except the violence and torture, which were better the first time. This movie is so boring even the villains are no fun. The actors are uniformly awful, but who can blame them with everyone saying lines like "What does it mean?" and "It's not possible!" that inadvertently describe the film itself. Woody Harrelson is back in a long, blond hippie wig, and the TV master of ceremonies is once again Stanley Tucci in mascara and lipstick, a campy cross between Liberace and one of the trashy Kardashians.
Enough is enough. One good thing: The jungle scenes were shot in Hawaii, so at least they all got a paid vacation.
THE HUNGER GAMES: CATCHING FIRE
WRITTEN BY: Simon Beaufoy and Michael Arndt
DIRECTED BY: Francis Lawrence
STARRING: Jennifer Lawrence, Josh Hutcherson and Liam Hemsworth
RUNNING TIME: 146 min.
RATING: 2/4
CORRECTION: An earlier version of this review was unclear, and to some readers implied that the reviewer saw the first Hunger Games movie in 3D. That was not the case. The Observer regrets the ambiguity.