"Get yourself out of whatever cage you find yourself in," John Cage once counseled. The British artist Samuel Rowlett was tired of working inside, so he built a portable studio that he could carry around on his back. On a Sunday last month, it sat like a tent at the center of the Dorsky Gallery in Long Island City as visitors arrived for a panel talk on its current show, "Artists' Walks: The Persistence of Peripateticism." The contraption—four hinged canvases attached to a harness and two folding chairs—looks like something Leonardo might have dreamed up. Mr. Rowlett has worn it while trekking through a Western Massachusetts snowfall, wading through a Connecticut riverbed and ambling through the streets of New York.
"This was pristine canvas," he said before the talk, which brought together two of the show's artists and its curator, Earl Miller. "After walking through the city"—he paused to rub the weathered stretcher edge—"I imagine that over time it will create a patina." Mr. Rowlett unlatched the hooks that held the frames together, folded them flat like a Japanese screen and hoisted the invention on his plaid-shirted back. A small group gathered curiously around him.
"Love it," the artist Neil Goldberg grinned. For his piece in the show, a video titled12×155, Mr. Goldberg filmed pedestrians in Manhattan as they announced their locations at numbered intersections in the borough, creating a visual and sonic map of the island. Speaking of his inspiration, he said, "I always love to listen to people talking the language of New York, like 'Oh, we had our first date at that restaurant on 47th and Third." The exhibition also includes more literal maps by artists like Danica Phelps, Gwen MacGregor and Sandra Rechico, but the show is about more than just literal cartography.
"I didn't want to make a show strictly about mapping because there's a whole range of walking practices," Mr. Miller said. The show follows the artistic trajectory of peripateticism, which one can track all the way back to Aristotle's habit of pacing about while lecturing, through Baudelaire's flâneur in the 19th century, who was "gifted with an active imagination, ceaselessly journeying across the great human desert," to the 1960s French Situationists, who strolled about Paris, teasing out what they termed its psychogeography. Mr. Miller's exploration begins around that time, when walking spilled over literally into contemporary art with rambling artists like Richard Long and Hamish Fulton, who are both included in the show.
"Walking is a sketching tool," Mr. Goldberg said. "I find simply the act of walking is hugely generative of ideas." On rainy days, he has wrapped a video camera in a plastic bag, hung it from a street sign and let it spin to catch the world scurrying by. For another film, he recorded people's expressions as they emerged from various subway stops and tried to orient themselves to their surroundings.
"In some anthropology departments, they're now doing walking as a Ph.D.," said performance artist Moira Williams, who is a founding member of the New York Walk Exchange, a group that develops creative walks that emphasize the body as "a way to produce and transmit knowledge." Her projects are more explicit performances, which intervene in the world. For one ongoing work, Exchange, she glued seeds beneath her arm. Days later, when they germinated, she transplanted them into the pouch of a shirt she tailored with a built-in watering system and roamed her mystified neighborhood asking residents for water. When the seedlings grew, she planted them into a barren patch of earth, an act that emphasized her physical relationship with the environment.
Mr. Rowlett said that his walking practices also came from the desire to approach the landscape in a conceptual way. He had the vision for his backpack-studio one night as he was trying to fall asleep, and, after building the device, he felt destined to wear it. "I put it on, and all of a sudden I felt like I had this superpower," he said. The act of walking became an excuse to get out and interact with his environment. "Then I realized there was more physical comedy in it than I had realized." As he walked outside, bemused passersby rolled down their windows to yell at him, tree limbs snagged on the canvas and every slight breeze threatened to carry him away.
Such a spectacle can be discomfiting in a time of heightened paranoia. "In the early '90s, people could not give a crap about what you were doing," Mr. Goldberg said, recalling how he used to walk to various Manhattan used-car lots asking to read Walt Whitman poems over their loudspeakers. "They were like, 'Sure, I don't get it, but why not?'" In the post-9/11 world, such eccentric behavior can cause suspicion, as happened in May 2012 when an outdoor installation by Takeshi Miyakawa drew the interest of a police bomb squad who arrested him. "With the whole 'See Something, Say Something,' suddenly I felt very much a part of that 'Something'," he added wryly.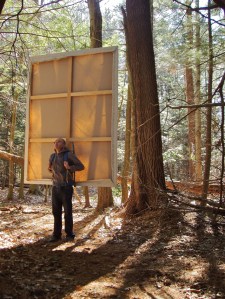 Now, perhaps due to the changing nature of walking, aided by GPS-enabled smart phones, art that examines and involves it is proliferating. "There's something in the zeitgeist that's about the everyday," Mr. Goldberg said, attributing this general mood to a reaction against technology's supremacy in our lives. Ms. Williams agreed. "There seems to be a looking back to the more romantic times of transcendentalism, and that's very connected to being outside," she said.
When the talk ended, Mr. Dorsky dimmed the lights for a showing of Mr. Rowlett's film, Landscape Painting in the Expanded Field (2012), which takes as its inspiration the plein air painting tradition. In the film, Mr. Rowlett appears as a lone figure walking through fields and woods with the door-sized canvas contraption strapped to his back. As he precariously navigated a river bend, the audience broke into laughter. In the show's catalogue essay, Mr. Miller writes that this performance—the artist's first—shows nature "as background with the blank canvas highlighting the contrast between real landscape and the absent painted one." As light breaks through the trees, forms are cast onto the canvas, which becomes, as Rauschenberg said of his white paintings, a landing pad for shadows.
"What is it that you can transcend?" Ms. Williams asked at one point. "As an artist, I know that I want to be out, I don't want to be in." Walking, she added, is a "limitless performance."