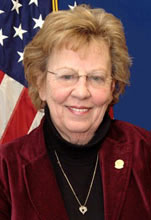 A top New Jersey Democratic senator has a piece of advice for Jersey City's Mayor Steve Fulop following his decision to go after the Port Authority of New York and New Jersey in a $400 million lawsuit.
Be careful, says Senate Majority Leader Loretta Weinberg (D-37).
"He better be careful," said Weinberg, adding, "In retribution for him obviously standing up to the Port Authority, they might close some roads or an ingress or egress in Jersey City."
The Bergen County lawmaker reacted to news Tuesday of Jersey City's Democratic mayor announcing a lawsuit against the Port Authority for missed tax payments and other alleged harms. Weinberg's comments come on the heels of an ongoing battle she and other lawmakers have waged against the Port Authority over the release of information about lane closures on the George Washington Bridge in September.
Last month, the Wall Street Journal suggested a four-day lane closure on the GWB that triggered massive congestion in Fort Lee could have been an act of political retaliation. The newspaper reported that Fort Lee's Democratic mayor was retaliated against for not having endorsed Gov. Chris Christie's re-election bid.
Port Authority officials reportedly indicated the closures were a result of a traffic study. However, Weinberg and other lawmakers seeking details on the reported study say they have seen zero evidence to support the claim.
Weinberg told PolitickerNJ she did not know the details of Fulop's lawsuit, but said she will "certainly reach out to him" as she continues her battle with the authority (which includes, again, petitioning the Port Authority's Board of Commissioners for additional information on the traffic study at a public meeting slated for Wednesday).