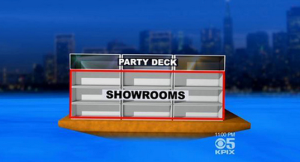 The mystery of those Google barges floating in San Francisco and Portland might've been solved, and so we've got an early candidate for the oddest SXSW stunt ever. For the past few days, speculation was that the four-story, windowless structures were giant retail spaces for Google Glass, and now KPIX-TV has all but confirmed those suspicions.
The deep digging from the CBS affiliate revealed that Google plans a floating retail outpost as the search giant plans to deploy the Internet-equipped face computers onto the public sometime next year. And judging by what the sources told KPIX, the plans sound impressive.
It includes several floors of "dazzling showrooms" with fancy lighting and it'll be topped off with a party deck that includes bars, lanais (!) and other upscale features that could rival a Las Vegas resort. The vessels can quickly be broken apart, too:
The building is constructed of interchangeable 40-foot shipping containers that can be assembled and disassembled at will, allowing it to be placed on barges, trucks or rail cars and taken anywhere in the world, the source said.
San Franciscans and technoratti couldn't shut up about the secret project, which Google has gone great lengths to keep it secret. Everyone from the Mayor's office to the Coast Guard rebuffed questions as to what the search giant company was doing with the barges.
Google thought the 40 foot barges wouldn't attract any attention because people would be distracted by the September reopening of the Bay Bridge, but we guess that didn't quite work out! And problems with permits have kept the secrety Google[X]-created project from opening on time.
KPIX's request from Google once again want unanswered, so we can still assume it's a Larry Page sex shack until further notice.