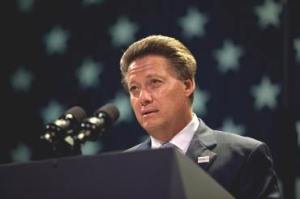 TRENTON – It's about the numbers.
The way the N.J. AFL-CIO president sees it, organized labor played a vital role in Tuesday's legislative victories.
"We had 73 of our union members on ballots all across the state,'' Charles Wowkanech said this morning. "A couple are in question, but we won at least 62 of them, mayors, freeholders, the Senate president.
"We did lose (Assemblyman) Nelson Albano, unfortunately, but we have better than a 77 percent win.''
Senate President Steve Sweeney is a former Ironworker whose union ties led to a huge get-out-the-vote effort Tuesdsay.
The AFL-CIO organization formed Working Families United for New Jersey two years ago, which brought together college students, religious leaders, and progressives and worked throughout the state.
"We registered 21,000 new first-time voters in the city of Newark,'' Wowkanech said.
On top of that the labor organization also had a super PAC for the first time, N.J. Workers Voices. "This (2013 campaign) was one of our most extensive programs in terms of finances and mail resources.''
And why is this massive expenditure needed?
"That's what our competition does," Wowkanech said unapologetically. He referred to the Citizens United decision, in which the Supreme Court said the First Amendment protects large expenditures by corporations or unions.
Wowkanech also credited the school started 15 years ago to train and apprentice their members in the field of politics, the same way they would apprentice someone as an electrician or a plumber.
"We have elected 800 union members around the state,'' he said.
In addition, labor worked with student, minority and other advocates on the successful campaign to pass the constitutional amendment to raise the minimum wage.
Their gubernatorial candidate lost by a wide margin, so not everything worked out as hoped.
"In an atmosphere where you had a governor at the top of the ticket whose numbers were off the charts," said Wowkanech, Tuesday's results count as a huge win for labor.