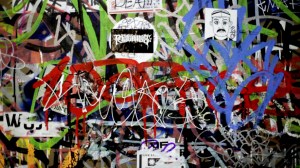 Your drunken trips to the suspiciously sticky bar bathroom just got a whole lot more enjoyable.
Filmmakers Brandon Bloch and Tim Sessler have just released DIVE ART, a short film showcasing the artistry of the graffiti in some of Brooklyn's nastiest bathrooms. Inspired by Ian MacAllen's Toilets of New York series, the film aims to reframe the way viewers interpret the city's seemingly mundane spaces.
Mr. Bloch told The Observer that he and Mr. Sessler spent an hour and a half to two hours in each bathroom, recording all the intricate details of the sprawling graffiti art. (Bathroom buff Mr. MacAllen provided the filmmakers with a list of toilet recommendations.)
"The way it was shot was very meticulous, so we would go into a bathroom, and each bathroom's unique," Mr. Bloch said, "So we would observe how we wanted to approach each one in its own way."
For a project involving long-term confinement within pee-coated walls, DIVE ART actually sounded pretty fun to film.
"It was a fun process because a lot of our friends got involved," Mr. Bloch said. "We needed extras, and people to flush the toilet a bunch of times, or wash their hand a bunch of times…There's a lot more footage of people drinking that didn't make the cut. [We staged] a couple epic bar crawl nights and invited our friends to come along, and we'd film them."
And when friends weren't around to help with filming, the DIVE ART duo came up with some creative solutions.
"We wanted to stage a lot of peeing shots, so Tim [Sessler] used a Sriracha bottle and filled it with apple juice," Mr. Bloch said.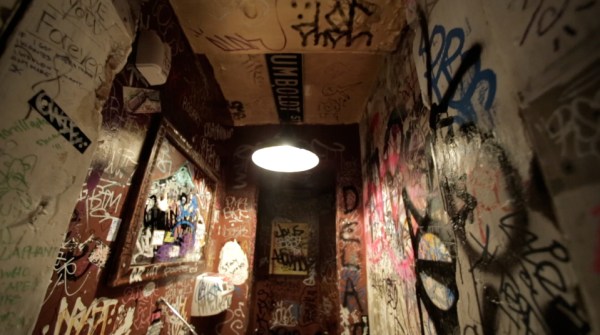 Currently, the pair doesn't have plans to take DIVE ART to the big screen—just a hope that people who watch their film might view their everyday surroundings in a new light.
"We wanted to focus on these visual elements that many people end up overlooking," Mr. Sessler said in a statement. "Bathroom graffiti often accumulates layer upon layer leaving behind a multitude of intermixed colors that provide a visually stunning experience."
"Our only hope with this is that people watch it and see things a little differently," Mr. Bloch said.
[protected-iframe id="deac8ea437bf4c10bf5185f19d558ce5-35584880-45096606″ info="//player.vimeo.com/video/80013440?portrait=0&color=ffffff" width="100%" height="500px" frameborder="0″ webkitallowfullscreen="" mozallowfullscreen="" allowfullscreen=""]